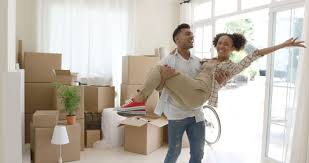 Moving into your new dream house can be a daunting task. Between unpacking, cleaning and trying to find that stray roll of toilet paper, it may feel like you have lost your mind in a sea of bubble wrap. That is why I wanted to share simple things that you should do that first month of living in your new home. These items may feel like back burner tasks but really, they will help you sleep better at night in your new abode and make you feel like your new place is less like a new house and more like your new home.
Change the Locks: Security is the number one concern of most people in a new environment. You can easily switch out your locks and deadbolts to your new home to protect your valuables, your family and of course, yourself. Now is the time to consider the finish and the options are endless! When it comes to exterior locks, make sure you choose something that looks timeless and can be cleaned easily. A new security system is also a good idea. The options for this are endless as well. Systems with online monitoring, iPhone compatibility, thermostat control and even video monitors for the interior as well as your baby nursery are super helpful. Even if the room is empty now, it won't be in the future – so go ahead and secure it!
Remove Toilet Seats: By removing your toilet seats, you will be able to really deep clean under the bolts and hinges.  After a thorough scrubbing, you can reinstall your existing seat or choose to shop for a new one (new versions with night lights, padding or even child sized attachments are now available!)
Change the Garage Door Code: Similar to the locks, but this is applicable if your garage door has a remote mounted on the outside of the door. It is easy to change the code, simply look up the user manual for your specific opener online. If your home comes with a smart garage door opener, make sure to download the app and get it set up with your phone too.
Replace the Fire Extinguisher: Emergencies happen, knowing that you have a working fire extinguisher if needed is essential.
Change the Smoke Detector Batteries or Units: Avoid the dreaded 3am chirping by changing the batteries when you first move in and mark your calendar for every 6 months to swap them out again. If the house is older than 10 years old, consider replacing the entire unit (possibly a combined carbon monoxide and smoke detector unit).
Change the AC Filter: A five-minute project that can prevent loads of headache down the road. An old filter can make your AC work harder which can lead to it running inefficiently or breaking.
Set up the Thermostat Schedule: Unless you like the exact same temperature and live on the same schedule as the previous owners, you're going to want to set up the thermostat. Better yet, replace it with smart thermostat and start building out your smart home!
Clean the Dryer Vent: It is unknown when the vent was last cleaned. In order to prevent using the new fire extinguisher, clean out the dryer vent of years of lint!
Find all the Shut-Off Locations: Hopefully you never need to use these in an emergency situation; however, if it does happen, you don't want to use that time to search for the shutoffs.
Change Your Address:
The first address to change is with
USPS
. This will ensure that anything you miss will get forwarded. I was also able to select a checkbox to update my voter registration at the confirmation screen. Another important address update is on your driver's license and car registrations.
Make a List of Emergency Numbers: The point of an emergency contact list is that it's there when you need it. Now that you're in a new location, you need a new list with local phone numbers and addresses for the police department, nearby hospitals, the fire department, and other emergency services. Don't wait until you need them in a hurry.
Collect your Moving Receipts: For any home move, it`s a good idea to keep all of your receipts for moving expenses, just in case you`re able to write off your move. If you haven`t done that yet, now`s the time to gather your receipts and documentation and make notes about what each item is for as well as any additional information that may be helpful at tax time.
Meet your Neighbors and Enjoy your New Home!