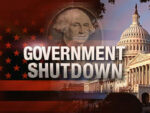 While a government shutdown won't stop people from buying and selling homes, the ripple effects across the economy could be disruptive, especially if it drags on.
Some expect to see delays around mortgage loans, particularly if the shutdown isn't resolved quickly. Zillow estimates around 2,500 originated loans would be delayed per working day. Homebuyers applying for a government-backed mortgage from the Federal Housing Administration would face processing delays.
A government shutdown could also delay mortgage loan approval for other reasons. In areas where flood insurance is required, for example, buyers could be stalled if the National Flood Insurance Program were to pause operations.
Delayed Loan Processing- Some federal agencies, such as the Federal Housing Administration (FHA), may operate with reduced staffing or close entirely. This can lead to delays in loan approvals and processing, affecting both homebuyers and sellers. It's essential to inform your clients about the possibility of extended timelines.
Verification and Documentation- Many mortgage applications require verification of income, tax returns, and other documentation from government agencies. If these agencies are affected by a shutdown, obtaining necessary documents may become more challenging, further slowing down the mortgage approval process.
National Flood Insurance Program (NFIP)– The NFIP is vital for many homeowners in flood-prone areas, as lenders often require flood insurance for mortgage approval. A government shutdown could impact the availability of NFIP policies and affect property transactions in flood-prone regions.

IRS and Tax Transcripts–

The Internal Revenue Service (IRS) provides tax transcripts required for mortgage applications. The IRS would remain funded through the Inflation Reduction Act, but obtaining these transcripts may become difficult, potentially leading to delays in loan processing and closing.

Appraisals and Inspections- Government shutdowns may disrupt the scheduling of appraisals and inspections, as federal agencies oversee certain aspects of these processes. Delays in these areas can lead to extended closing times and may affect contract deadlines.
Market Uncertainty- A prolonged government shutdown can create uncertainty in the real estate market, causing some buyers and sellers to delay their transactions until stability is restored. This could result in slower market activity and potential fluctuations in home prices.
Economic Confidence- Government shutdowns can erode consumer and investor confidence in the economy. If potential buyers and investors become hesitant due to political uncertainty, it may impact the overall demand and stability of the real estate market.