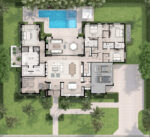 Because the builder's agent's job is to convince you to buy only their homes at the highest price. Your Exclusive Buyer Agent's job is to even the odds and negotiate for the lowest price and best terms for YOU!
If you're building what you buy, you might think, "Why would I need an agent?" However, new construction is a complicated and expensive process. The advantages are many; aside from the obvious ones. The fact that having buyer agent representation is often FREE cannot be repeated often enough. So too, should the misconception that not using a buyer's agent will save money be constantly repeated – that simply doesn't happen.
A seasoned agent with experience in new home construction can give you invaluable insight during the process. Whether they've done business with those particular builders, or are aware of other comparable communities in the area, they can provide a wider context to your transaction. They might have an existing relationship with your builder, easing any tensions that might arise.
Remember that that site agent represents the builder/developer. Most real estate agents are sub-agents of the Seller or Transactional agent. In neither case do they have a fiduciary responsibility to the Buyer.
The site agent is an employee of the builder and is obligated  to represent the best interests of the builder, not the homebuyer. They are expected to work to secure the builder the best deal.
The further you get into the home shopping process, the more challenging it becomes to bring in an agent. In fact, if you've already registered with a community, it might be too late.
Benefits of Using an Exclusive Buyer Agent for New Home Construction:
Compare and evaluate builders' reputations and history of their construction quality and service.
Help you compare and evaluate advantages and disadvantages of new construction homes vs. resale homes.
Provide information about the community.
Help buyer with evaluation and selection of a building lot and options. Lot location and certain options have a very real bearing on resale value.
Help buyer evaluate which options should be done by the developer during construction and which are more affordable to be done by an outside vendor post closing.
Truly negotiate on behalf of the buyer. Many builders are offering "free" options and upgrades, but some are also making additional price concessions.
Review the Agreement of Sale (PA) prior to buyer signing. This is not a legal review (only an attorney can do that), but an experienced agent will be able to spot terms and conditions that are atypical and of potential concern to the buyer. The agent may then be able to negotiate terms and conditions that are more favorable to the buyer but still acceptable to the builder. Keep in mind most new construction contracts are written by attorneys that represent the builder and these contracts are therefore heavily weighted in favor of the builder.
Recommend a real estate attorney for final contract, title commitment and to hold your escrow funds.
A buyer's agent serves as an extra set of ears as a witness at court or arbitration– When the builders sales representative is familiar with all rules, features and prices and it's all new to buyer – it is good to have experienced person on buyer's side listening with buyer and taking notes, a lot of information is verbalized in short period of time.
Attend the signing of the Agreement of Sale
Assist with the buyer's financing and review financing paperwork. This is especially important if the builder is tying "free" options and upgrades to the use of a builder-affiliated lender.
Check on the property during construction and keep a photo record at different stages.
Assist in options selections to optimize budget and maximize resale.
Be your leverage with the builder as problems arise during construction.
Keep everything in writing– Sometimes even the very nicest builder makes verbal promises that later become a point of contention. An experienced buyer's agent is conditioned and trained to "put it in writing" even though at the time it doesn't seem necessary.
Arrange for a final inspection with a license building inspector and generate a "punch list" to be completed before final closing.
Document and help resolve any issues with construction, financing, title, etc. throughout the process.
Attend a pre-settlement walkthrough with the buyer to make sure that all items are satisfactorily completed or that a proper punch list is established to assure completion after settlement.
Obtain and review a preliminary HUD-1 settlement statement to be sure it is accurate and advise the buyer of the amount needed for settlement.
Assist buyer with utilities, security and HOA requirements, decorators, service professionals, schools, et. al.
Attend settlement with the buyer.
A buyer's agent will be there even after the home closes. It is routine for issues to arise during the first year of a new home. Site agents tend to forget a buyer's name after the contract is signed.
NO ADDITIONAL COST TO YOU!
Read My Reviews from New Home Construction Clients!