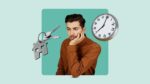 Many prospective homebuyers have been left wondering when the time will be right for them to enter the housing market. The average 30-year fixed mortgage rate hit 8% this week, the highest level since 2000 but a very moderate rate to the 16.5% I paid for my first home in 1980.
Daryl Fairweather, Redfin's chief economist, said waiting for rates to fall before entering the housing market could be a mistake. "The second that happens, buyers will rush back into the market, and we will see a return of bidding wars," she said.
For homebuyers who are financially prepared to buy a home, locking in a high interest rate now — and refinancing at a lower rate down the road — could be a wise move, Lawrence Yun, stated chief economist at the National Association of Realtors.
Over the next 12 to 18 months, Yun expects mortgage rates to fall from the near-8% they're at now to below 7%, perhaps even close to 6%, he said. Remember, the real estate adage of  'Marry the house and date the rate.' To put it another way, you can always refinance later. I always advise my buyers to plan on staying in the home for five or more years if you plan on owning a home. If your short term situation involves  moving, then perhaps it is best to rent for the time being.
Many factors will change rates in the future and the housing market is directly influenced by mortgage rates. Many of these factors are unknown at this time. Inflation, world unrest and economic conditions, GDP, and more.
The volume of existing home sales was down more than 15 percent from August 2022 to August of this year, according to the National Association of Realtors.  However in South Florida though the volume of sales where down homes prices have continued to increase month to month due to a lack of inventory with both resale and new construction.
Cash Buyers should get into the market sooner than later since there are no forecasts that predict that home prices will be lower in South Florida in 2024, just the opposite.
No matter which way the real estate market is leaning, though, buying now means you can 
start building equity
immediately. It also means avoiding the potential for additional mortgage rate increases later.
The decision to buy a house in 2023 or wait till 2024 is multifaceted, depending on market conditions, economic forecasts, personal finances, and lifestyle factors. While it's essential to consider all these elements, remember that a home is not just an investment—it's a place to live, grow, and create memories. Whether you choose to buy now or wait, ensure it aligns with both your financial goals and personal needs.