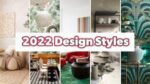 Home design trends that are expected to loom large in 2022 are an evolution of what started during the pandemic when life was disrupted, and more homeowners started reevaluating their surroundings.
In 2021, the pandemic slowly dissipated and then, almost overnight, a variant came charging back. Our homes and how we use them has massively evolved in the past 2 years as we embrace multifunctional spaces and a sense of retreat. With wellbeing, mindfulness, and sustainability as catalysts for change, home decor trends for 2022 focus on maximalism and nurturing natural connections.
Waning Design Trends:
Whether it's having multi-purpose rooms or furniture with innovative storage solutions, modern room-dividing tactics are here to stay.
Open shelving will likely be replaced. Over the past couple of years, people have spent more time at home and really used their kitchens. It is clear that open-shelving does not work for the way people are living today because it lacks the storage capacity of cabinets.
Gray is nearing the end of its decade of popularity. Neutrals like white, beige, and gray have all been popular colors throughout the home. But gray seems to be phasing out the quickest. Expect to see more bold and dramatic colors for cabinets and backsplashes next year. The use of wallpaper to add interest, texture and color is also a big trend along with florals.
2022 Design Trends:
Sustainability:
 Homes that are constructed with sustainability in mind have proven to incur lower maintenance costs, reduce expenditure on utilities and provide their owners with a higher return on their investment.  In the coming year, this will accelerate and translate to use of eco-friendly, natural construction materials such as brick and stone for exterior walls. On the exterior of homes, we can expect to see a rise in 
drought-resistant landscaping
 including turf, and inside, natural elements such as repurposed natural finished wood and 
low maintenance flooring
 are going to be in high demand.
High-Speed Internet and Broadband: Home offices will still be a priority in 2022 as many people are continuing to work from home. Smart consumer devices in 2022 will be featured in homes to provide personalized solutions to the unique challenges we face in our day-to-day lives, whether it's the angle that the sun shines on our TV screen, home robots, or monitoring our activity to provide fitness advice. The trend for all things domestic to become increasingly "smart" and capable of communicating and connecting with each other in more useful ways will continue throughout the next year.
Multi-functionality: Single-use spaces seem to be a thing of the past. In the light of architectural strides and design, interior design trends in 2022 will feature creative ideas on multifunctional rooms and furniture.
Home Theaters, Yoga Studios, Home Gyms: After losing appeal because they took up too much space, home theaters are popular again as homeowners seek more at-home entertainment. A newcomer to the trends list is a yoga studio or home gym as homeowners look for ways to unwind and stay fit at home.
Purple is the New Gray (or Black): Once considered the color of royalty, purple has become one of the "reigning" requests in the increasingly colorful world of home design.  It's a jewel tone that is both rich and neutral as a base for bright or more earthy hues and is the complementary color for green which is also high on the list of trendy colors for 2022.
Outdoor Space: Having a yard or balcony gained ground during the pandemic and remains a big draw for buyers. As homeowners spent more time outdoors, their wish list for that space evolved. More and more people added a pet to their household in the past year making yard space a high priority. A fire pit is also still high on wish lists, but an elaborate outdoor kitchen with a pizza oven and beer tap has waned in popularity—many found they rarely use these bells and whistles. What is universally popular and a good built in-grill, cabinetry and a covered space for dining and watching TV outdoors.
Maximalism: The minimalism of the last few years is fading, while maximalism is soaring. What that means is rooms are being filled with comfortable furnishings, rugs, art, and collections with character.
Kitchen Design: One of the hottest design trends in the kitchen are two islands; one is for food preparation and the other is for gathering and entertaining. As demand for hyper-flexible spaces rises, double islands have become a place for stay-at-home work, schooling, cooking and eating.
What Design Experts are Saying:
'As people continue how to navigate connections during this new normal, they are looking to create comfort that works as effortlessly indoors as it does outdoors. Adding dimension to the living spaces is important – incorporating warm colors, rich textures, and softness is crucial for that sense of comfort and normalcy, especially as we enter a new year with the pandemic still with us,' says Alex Gibson, founder of home decor and textile design brand 
Sien + Co
.
Texture is going to have a moment in 2022 in every aspect of the home, from walls to furniture to décor. As people look to add dimension in new ways, we're going to see a resurgence of plaster and venetian walls and a stray away from the velvet trend as people look towards more dynamic fabrics like boucle and corduroy. This will also be a popular trend due to the surge in neutrals. With less colors to work with, interesting textures can add flair to a space in an unexpected way,' says Channa Alvarez, interior designer at 
Living Spaces
.
Ben White, design and trade expert at Swyft says that sustainability and natural design will be key in 2022: 'Sustainability and use of organic materials have become prominent in recent years. With the public's increased exposure to climate change, the idea of sustainability has fed into the interior industry and our homes. This will translate into how we buy furniture; a move towards furniture items with reclaimed woods and accessories with recycled glass and metal. We are looking for upcycled, antique or used furniture which has a story to tell; not only does its origin create great conversations, but it's a greener approach to furnishing the home. Investing in meaningless furniture and accessories is a thing of the past."
Elliott and Kagner think we'll see "more vestibules, hallways, libraries, console desks, pantries, and dressing spaces with a focus on displaying object collections" in 2022. "For furnishings, think: throne-like chairs, consoles, and sideboards. For accessories, look for generously scaled table lamps, large candlesticks, quilts and rustic linen, patterning, and heavily textured ceramics," add the duo.