What We Need From A Home During COVID-19 Pandemic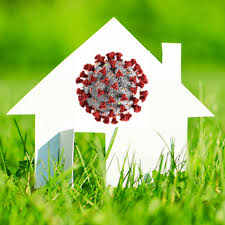 It is safe to assume that COVID-19 or other lethal viruses are going to be a part of our lives for years to come. Homes, businesses, schools, travel entertainment and more will all have to adapt for keep people safe and productive. The one area that we all can control is where we live. Our homes are increasingly becoming our refuge, work place, school, and sources of entertainment. Our needs have changed as well as the stresses in our lives and our homes should be an area that provides us with restorative releases from the stresses that living with a pandemic produces.
Our needs are tied to our emotions, which are themselves influenced by our surroundings. The pandemic we're living through has intensified certain emotions and shaken up our priorities. Emotional needs are translating into new demands on our interiors and how good design can help address the new challenges.
Multipurpose Rooms:
Home isn't just home anymore. With the pandemic and lock down, it has become an office, a school, a gym, a play area, a restaurant, a dormitory and a place to retreat and relax. Hybrid designs, detachable units and convertible pieces are the keys to creating a home suited to the "new normal."
Rooms that can be closed off for offices, playrooms, and individual spaces are helping homeowners better manage playtime for the kids, conference calls for work, and peaceful alone time
Sanitation and Disinfection:
Before COVID-19 there was already a growing awareness of the importance of healthy air, but today it has really become a priority as we spend more and more time at home. Homeowners are looking for all possible means to improve indoor air quality: furniture that doesn't emit VOCs or other pollutants, sensors that monitor air quality and air-purifying treatments.
 In order to keep homes safe and clean, entryways will become clearly defined transitional spaces where one can remove their shoes, hang their jackets and sanitize their hands before entering.
There is a new emphasis on contact-less ways of stopping germs from multiplying on certain surfaces or limiting their proliferation in the home. This includes solutions for disinfecting clothing, such as with disinfecting wardrobes; antimicrobial products and fabrics for children and bedding; soaps that change color when you've washed your hands long enough; and self-disinfecting features such as door handles.
There are few materials that we can use that are more sterile than others, and will be used even more in the future of design.
Metals such as copper, brasses, and bronzes are natural antimicrobial materials that have intrinsic properties to destroy a wide range of microorganisms. Not only are these metals hygienic, but they are great accents to warm up your home.
Quartz is one of the hardest non-precious stones on earth, therefore countertops made from quartz are hard, stain and scratch-resistant, and the most sanitary. Quartz is already popular, and that will only increase post COVID-19.
Woods like bamboo, oak and cork stop bacteria and microorganisms from growing. We love the look of warm lighter oak woods for flooring, and think this will continue to be a big trend in home design.
Restful Environments and Wellness:
Our homes have also become our refuges, a place to rest and recharge our batteries.Responding to this need are products that ensure high-quality sleep, helping us process our daily emotions and protecting our immune systems, such as sleep and breathing monitors and sound insulation. It also means keeping bedrooms areas for rest and finding other areas in the home for work and school.
Going to gyms and fitness class outside the home are no longer safe options. This search for well-being also includes physical activity at home, with a focus on equipment and furniture resilient enough to withstand daily use, including stain-resistant, waterproof, warming and anti-odor products that can be used for exercise.
Closed off Spaces:
Now that people are having to live, work and play all in the same confined space the need for sound proofing and privacy has grown. There are a large percentage of people who may never return to a full time office environment and home offices are a mandate now instead of an afterthought. There will be a rising need for functional private offices to be an integral part of the home.
the benefits of making your office space aesthetically appealing —something that often comes second to function. "Whatever your home office space is, make it beautiful. Face something beautiful," she said. "I like to face into the room, or you could look out of a window. Have a comfortable desk chair — spend money on that; it's where you sit every day."
Outdoor Space:
Since the onset of the pandemic, our appreciation of the outdoors and nature seems to have greatly increased. The act of simply going for a walk or sitting in a park has been a monumental source of reprieve. However, in the midst of a lock-down scenario, these activities don't guarantee safety and aren't universally accessible.
As a result, the demand for home designers to provide private outdoor spaces for every type of home looks set to increase. It will be up to architects to work out how to integrate the outdoors into even the most compact of homes, experimenting with roof gardens, micro backyards, porches and balconies. People may also seek a closer connection between their living spaces and the natural world, with folding glass doors merging these two zones together.
Tech Infrastructure:
Designers anticipate not only an increased need for smart home technology, but also a need for that technology to be touch-less, in order to reduce the spread of microbes.
"Automation will no longer be an indulgence but will help keep people safe," MacEwen says. "As the memory of the pandemic fades, I do think the 'best practice' for hygiene will remain and change the way we interact in the world and what we expect from our home."
In the end, whatever becomes of the changes to home design as a result of COVID remains to be seen. The question for housing is how might we create spaces that adapt flexibly for how people want to live, and where they can see and touch hygiene in new ways and feel safe as a result.