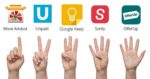 Buying a home and moving is stressful on many levels.  Here are some Apps to make the moving an easier endeavor. Like other productivity apps that can be downloaded on your smartphone, move-planning apps will help you keep everything organized.
Dolly: So you've arrived at your new home and realized you don't have the person-power to haul that bedroom furniture upstairs? No problem! Dolly (free, iOS, Android) connects you with helpful delivery people looking to make a few bucks. These strong-backed guys and gals have no qualms about carrying your furniture to its new resting place in your new home and there's never any haggling over price.
Flying Ruler:  Flying Ruler will help you measure anything in your home. Not sure if that sofa will fit in your new living room? Is it too large to come through the front door? Flying Ruler can help you be sure. This app is a tape measure, ruler, protractor, and a goniometer.
Google Keep: Google Keep (free, iOS, Android) is the ultimate sharable note application. When you're planning a move you will quickly find yourself making lists … and then making lists of those lists. That's where Google Keep's shareable, synced lists and notes come in so incredibly handy. When things get really hectic you can even record voice memos and Google Keep will actually transcribe them into readable text for you to browse later.
Handy: With Handy you can schedule a move-out or move-in cleaning by a vetted and background-checked professional. You can also book handyman services like furniture assembly, TV mounting or picture hanging to help you settle into your new home. Moving assistance is available, too! You'll leave with your home in better condition than you found it in, and your new place feeling like home right away.
Magicplan:  Floor plans are a crucial tool for envisioning your new living space and deciding where to place furniture and home goods. Use Magicplan on your phone or tablet to scan and measure rooms, then compile them using their drag-and-drop interface to create a complete floor plan.
MakeSpace: If you're downsizing or moving to a home short on storage space, MakeSpace will come in handy. Just book an appointment, and its team of professional movers will come to pick up your stuff and haul it off to storage. When you want your items back, schedule a delivery, and the team will return your goods. MakeSpace will bring complimentary supplies, like bubble wrap and free MakeSpace bins.
Meta ( Facebook) Marketplace:  If you've ever moved you already know that you eventually get to a point where you've packed up all the important stuff and would rather just throw everything else in the garbage than wrap it, box it and haul it. That's no longer necessary because there are people all over your town who will buy your old stuff and they're on Facebook Marketplace (free, iOS, Android).
MoveAdvisor: MoveAdvisor is another comprehensive moving app allowing you to take inventory, find movers and establish a moving timeline all in one place. The app itself is free of charge to download and use, but you'll have to pay for any services you book.
Moved:  Designed to be your personal moving concierge, Moved manages the entire moving process for you. The app is a one-stop shop for your move. It will organize your move every step of the way, from finding movers, hiring packers and selling unwanted items, to updating your address and even hiring cleaners and painters. The service also helps you find moving professionals, affordable packing materials, and storage facilities
OfferUp:  OfferUp is the largest mobile marketplace in the United States to buy and sell goods locally, and you can do so straight from your phone! Just take photos of the items you're selling, describe the items and set a price. Buyers can message you through the app and make an offer, then arrange to meet you and retrieve the item.
RideShipper: You've got a car, bike, boat, or something else you need shipped?  With RideShipper you fill in the free vehicle shipping quote and you get almost instantly up to 4 estimates from reputable shipping companies.
Sortly:  Sortly is an inventory app built with small businesses in mind, but also great at cataloging all your beloved items and ensuring that they make it to your new home in one piece. Use your smartphone camera to snap images of items and Sortly automatically catalogs them for you. You can add barcode info for additional details and check off items as you're unpacking.
TaskRabbit:  Need someone to help you move, pack, unpack or help with almost any moving-related task you may need? With Taskrabbit you're able to state the task you need done and get matched with a freelancer (referred to as "Taskers" on the platform) who can do it for you.
TurboScan:  One thing you don't need to haul along to your new home is piles and piles of papers you've let stack up over years of home office neglect. You could scan them with your printer, but that would take forever, so download the TurboScan app (free, iOS, Android) and capture perfect scans of every document in mere seconds.
Unpakt:  Moving companies are everywhere, but which one will give you the best rate? Get rid of the stress of searching for the best deal and let Unpakt find it for you. Compare prices between a variety of local and reputable moving companies and even contact the mover of your choice right from the app. Unpakt offers a price guarantee that only changes if you add or remove an item or service.