Pros and Cons of Escalation Clauses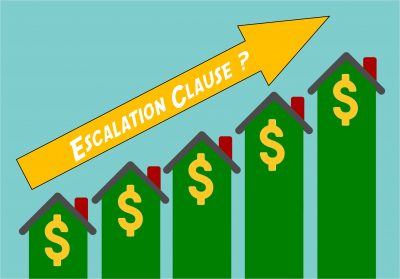 An escalation clause is language inserted into a purchase offer for a home that's intended to make sure a buyer is the highest bidder. It's typically used when a buyer and their real estate agent strongly believe a house will receive multiple offers.
An escalation clause states that the buyer will pay a certain amount of money above the highest offer the seller receives. It generally includes a ceiling cap to make sure the buyer doesn't agree to pay more money than they can afford.
An escalation clause can be a powerful technique when used correctly, but unfortunately it is seldom used as effectively as it could be. Such a clause increases, or escalates, a contract above its originally offered Sales or Contract Price when the Home Seller has received another Contract.  The intent of the Clause is to crush competing contracts by automatically and incrementally increasing the buyer's offer price by a pre-determined amount above other offer(s).
Typically, there are three distinct parts to any escalation clause that's included in a real estate contract.
Proof of a bona fide offer: You can rest easy knowing that sellers can't just use an escalation clause as an excuse to make you pay a higher sale price. When the contract asks for "proof of a bona fide offer," it means that the listing agent must be able to prove that another offer came in with a purchase price higher than your original suggestion. Typically, the listing agent will send over a copy of the page from the other buyer's purchase agreement that shows the higher price. However, any identifying information for the other buyer will be redacted.
An escalation amount: The escalation clause should also include an amount by which you'd like to outbid any higher offers.
A price cap: The price cap represents the maximum amount you're willing to pay for the property, or how high you're willing to allow your offer to go. If an offer is submitted that is higher than this amount, be aware that your offer may be taken out of the running.
Pros of Using an Escalation Clause
Including an escalation clause in your offer indicates to the sellers that you're truly invested in buying the property. It shows that you're willing to go above and beyond what's required in order to become the home's new owner.
Some buyers love the idea of negotiating; others don't. If you fall into the latter group, including an escalation clause in your offer might be a smart idea. Since it gives the seller a solid idea of your positioning upfront, it cuts down on the back-and-forth that needs to happen between you and the sellers.
If the market conditions are highly competitive — a "Seller's Market" — or the particular property is head and shouldersabove the rest, or both, you as a Home Buyer are likely going to find yourself competing for the home against other would-be homeowners.
Using an escalation clause will continually bump up the price you pay, but only if there are other offers that trigger it.
Cons of Using an Escalation Clause
If a buyer includes a maximum price in an escalation clause, the seller will immediately know the buyer's top price thereby compromising the buyer's bargaining position. By providing a price cap for your escalation clause, you're essentially telling the sellers how much you are willing to pay for the home, and there's nothing to stop them from simply presenting you with a counteroffer at that price.
An offer containing an escalation clause may not become enforceable until a specific price is entered into the contract and the buyer sees the price the seller has specified.
The seller may fabricate a fictitious offer in order to drive up the sales price for a buyer who uses an escalation clause.
Real estate brokers are prohibited from drafting escalation clauses, because doing so would constitute the unauthorized practice of law. Hiring an attorney is recommended but will increase the buyer's costs.
If multiple buyers were to include escalation clauses in their offers, a bidding war may follow. If no buyer is willing to commit to a specific price, then no contract is ever formed and no property is sold.
Since the use of an escalation clause implies that a prospective buyer is willing to pay more than other buyers, it may motivate sellers to seek higher prices, a disadvantage to the buyer using the escalation clause.
While the use of escalation clauses may lead to higher sales prices, a benefit to the sellers, they could also discourage buyers who do not want to use escalation clauses.
A broker who discloses the price/terms of an offer without the buyer's consent or otherwise gives one party an unfair advantage over another risks disciplinary action by the Commission. A seller's best response in a multiple offer situation where one or more of the buyers is using an escalation clause will likely be to invite all buyers to make their highest and best offers.  That way, each buyer is given an opportunity to buy the property at the price and terms he or she is willing to pay and the seller will receive the best offer from each buyer rather than an incremental offer from a buyer who wants to offer slightly more than a competing buyer.
Don't make the mistake of thinking the Highest Contract Price will always win; other TERMS of a contract can often prove more valuable to the Sellers.
Having a knowledgeable Exclusive Buyers Agent is invaluable for situations like this and for understanding the risks and possible benefits of opening negotiations in this manner. The seller has the right not to respond to any offer, whether or not it contains an escalation clause.