How To Win A Bidding War!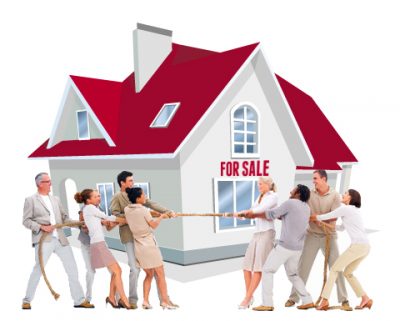 A bidding war is when at least two prospective buyers have made legitimate offers for a home that are similar and the Seller wants to select the best offer and terms for themselves. Bidding wars are common—in most of 2020, over half of home offers presented have faced competitive bids, according to Redfin's study. Although historically low interest rates have sparked buying activity recently, some neighborhoods are always sought-after and attract multiple offers whenever a home comes up for sale.  Exclusive Buyer Agents are experts in winning bidding wars and getting credits during the due diligence period.
Expect to be in a bidding war In a hot housing market, it's often not enough to quickly make an offer on a house but to have the highest price and best terms.
Here are a dozen ways you can get an edge on the competition.
Offer to Pay in Cash
If you have the ability to offer an all-cash bid, you gain a distinct advantage because you eliminate the possibility of a mortgage falling through before closing. Buying with cash will make the process go quicker because you won't need to go through the approval process with a lender, who would also request an appraisal. If you can't cover the entire purchase price in cash, you could agree to a larger down payment on the house, which increases your approval odds and might make your bid more attractive.
Get Pre-Approved
Pre-approval is a step most buyers will take anyway, but it's absolutely essential for anyone in a competitive bidding situation. Pre-qualification is not enough, as it doesn't show that the lender conducted the same amount of due diligence—such as checking your earnings and doing a hard credit check—that a pre-approval would require.
Know Your Financial Limits
When you're preparing for a bidding war, think of it like an auction—you need to know how much house you can afford before you actually bid. Once you know the maximum amount you're willing to bid, you can include an escalation clause in your purchase offer to ensure you can instantly counteract any other bid. An escalation clause lets you increase your bid to avoid being outbid by another buyer up to a specified amount.
Provide More Earnest Money
Buyers typically provide 1% to 5% of the purchase price as earnest money—a form of a security deposit—in a purchase contract, which gives sellers the assurance that you will follow through with the purchase. If you bail out on the contract without citing a contingency, you will likely lose the earnest money. If you put down more than the typical earnest money amount, it will tell the seller that you're determined to follow through to the closing.
 Be open to making offers sight-unseen
Speed is key in a seller's market as competitive as this one. If you're interested in a home but live far away or just haven't been able to tour it, you can still throw your hat in the ring. Video tours and 3D walk-throughs have made sight-unseen offers much more feasible. Almost two-thirds (63%) of people who bought a home last year made an offer on a property that they hadn't seen in person.
 Remove Some or All Contingencies
When you make an offer to purchase a house, you know the deal could fall through for numerous reasons, and you don't want to lose your earnest money because of it. That's why you include contingencies in the purchase contract; if the home inspection uncovers major problems or you can't sell your current home in time to close on the new one, you can get out of the contract without penalty. Almost no offers contingent on the sale of a home will win a bidding war. Sell your home, rent and then start trying to get a home under contract. Simultaneous closings are so 1990's.
If you can't waive contingencies, sweeten them for the seller. Opt to expedite the contingency timeline.
Be Flexible on the Move-in Date
First-time home buyers and those who have already sold their previous home might be in a position to be flexible with the sellers on their move-in date. A seller might ask for more time if they have concerns about potential delays for a new home build. In this case, they could go through the closing and then rent the home back from you for a few weeks or a month. This flexibility could be as valuable—if not more valuable—than a higher bid on the house.
 Start low, bid high
A lot of successful buyers today win by making an offer that exceeds the asking price…in fact it is expected. This also means that a lot of buyers end up exceeding their budgets. To prevent this, only search for homes that are listed 10-15% below what you can afford, so that you can make an over list price offer.
 Offer to pay some of the seller's costs
Home buyers can make their offers more competitive by offering to pay for expenses that are typically covered at least partially by the seller.
Write a Personal Note
Home sellers, especially ones who have lived in a home for a long period of time, can sometimes be swayed by a personal note that explains why you believe this is the home of your dreams. For example, you might know that the current owner raised a family in the home, and you can discuss how you hope to do the same. It might seem a bit over the top, but it's certainly worth a try when not much separates your offer from others. And yes—sometimes it works.  Avoid putting any personal information in the letter that may expose the Seller of real estate agents from violating Fair Housing laws.
 Prepare to lose before you win 
With more than half of offers facing competition these days, it's more likely than not that you'll get into a bidding war if you're in the market for a home. It's also wise to know when to walk away. It's OK to put your search on hold if you reach the point where you're not comfortable making the aggressive offers that are often necessary to win in today's market. You don't want to end up with buyer's remorse, after all.
 Use an experienced Exclusive Buyer Agent that has been successful with winning bidding wars and speak with their references. Be prepared to ask to be in a Back Up position if you lose the bid. The market is too competitive and offers move too fast for novices to be effective at winning bidding wars in a multiple offer situation.