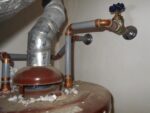 Many experts will tell you that PB pipe failure is not a matter of if, but when, and if you currently have polybutylene pipes in your home they have been there for many years. Polybutylene pipes take about 10-15 years to deteriorate, and sometimes you may not know you have a leak, especially if the pipes are behind sheetrock.
These leaks are a serious risk because they can create:
Mold
Water damage
Or even flooding
Ways to tell if you have PB pipes:
PB pipes used for interior applications are generally gray in color but may also be black. PB pipes used outside may be gray, blue or black.
PB pipe is flexible, not rigid.
PBpipes may be stamped with the code: PB2110.
The easiest places to see polybutylene pipes in your home are…
Near the water heater
Connecting to sinks and toilets
At the main shut-off valve or water meter
If PB pipes exist in a home, you basically have 2 options:
1.  Replace the pipes with PEX (a more reliable type of plastic pipe)
2.  Wait until they rupture and pay for expensive water repair AND then re-pipe the home.