Boca Raton, Florida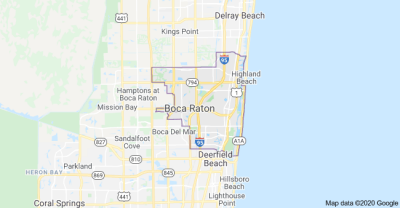 Boca Raton is one of Florida's gems – a great place to live, the city has pristine beaches, numerous beautifully tended parks, world-class golf courses and several museums. Commonly referred to as "Boca" by its residents, Boca Raton, Florida offers great weather all year round, a fact that has earned it the nickname of "a city for all seasons." Boca Raton is one of the most affluent communities in Palm Beach County. The city covers 29 square miles of lush tropical landscape and is the 25th most populated city in the state with 99,000 residents and the second largest city in the county. In 1925, the Town Council commissioned noted architect Addison Mizner to help plan it. Today, evidence of his style is prominent in architecture throughout Boca Raton Real Estate, including the Boca Resort and Club and Mizner Park and City Hall. Leading Fortune 500 companies call it home.
Boca Raton's stunning coastline has over 30 marinas offering plenty of space for boaters to dock their vessels. Its coastal location is also conducive to various water sports and leisure activities and residents here often go fishing, boating, swimming, sunbathing, and more. Boca Raton is the southernmost city in Palm Beach County and is known for its golf course, parks, beaches and downtown urban experience. Large, oceanfront Red Reef Park is home to the Gumbo Limbo Nature Center with trails, a butterfly garden and a sea turtle sanctuary. Downtown, Boca Raton Museum of Art has modern and contemporary American and European collections, and a sculpture garden. Nearby Mizner Park Amphitheater hosts concerts and events. The Town Center Mall with wow upscale and elite specialty shops featuring high end anchors such as Neiman Marcus, Saks Fifth Avenue, Bloomingdales, Macys and Nordstroms as well as designer boutiques including Louis Vuitton, Tiffany, Lululemon, Cartier, and Stuart Weitzman, just to name a few.
Hugging the shoreline between West Palm Beach to the north and Fort Lauderdale to the south, Boca Raton enjoys all the charm and affluence that Florida has to offer. Its welcoming small town charm and picturesque Mediterranean Revival architecture enchant visitors and residents alike, while 1500 acres of parks and miles of hiking paths promise plenty of pleasant greenery. Swimmers, snorkelers and sun seekers enjoy its four miles of tropical Florida beaches.
Check out this Boca Raton Beach Live Webcam and see the beach for yourself!
Quick Facts:
Prized for being a safe community with a crime rate that is 38% lower than the Florida average, young professionals and retirees are making the move to Boca Raton
The City is extremely accessible from Fort Lauderdale-Hollywood Airport and Palm Beach International Airport and the average commute time within the city is 21 minutes.
Just some of its main attractions are: The Town Center , one of the area's major shopping and retail destinations; The Boca Raton Museum of Art; and the premier resort destination, the Boca Raton Resort & Club. You can head on over to South Beach Park where you'll find picnic facilities that feature gorgeous views, swimming beaches, fishing spots and lush flora and fauna.
Boca Raton is home to Florida Atlantic University and Lynn University
Boca Raton – Fort Lauderdale area offers many performing arts and cultural venues. Discover the Broadway shows, opera, ballet and concerts at the Broward Center for the Performing Arts, Kravis Center of the Performing Arts, plus performances and activities at Showtime Dance & Performing Arts Theatre, Boca Ballet Theatre Company , and the Boca Raton Philharmonic Symphonic.
Boca Raton puts you close to everything, including some of the country's finest shopping. Mizner Park  is a beautiful shopping center centered around a Spanish-styled courtyard that offers boutiques, retail shops, dining, music, events, museums, and movies. The Royal Palm Palace, the oldest shopping mall in Boca Raton, features 80 shops built around quiet courtyards with sculpted fountains, and the Town Center Mall features many up-scale shops and department stores. Worth Avenue is another major shopping attraction with many high-fashion designer shops, gourmet restaurants and art galleries in a quaint setting. Shopping in Boca Raton is sure to be an unforgettable experience.
Sporting enthusiasts will be happy to learn that many professional sporting venues are nearby. Four major league sports venues are less than an hour away: Miami Dolphins football , Florida Panthers hockey , Miami Heat basketball  and Florida Marlins baseball.
For one to choose a home in the City of Boca Raton is to choose a lifestyle. Exceptional public and private schools are located throughout the city, in addition to various parks and playgrounds that offer a multitude of activities for the entire family. No matter where you may be moving from, there is no denying that Boca Raton is an amazing place to raise a family. If you are moving with school-aged children or are thinking about starting your own family, then you will be pleasantly surprised to find out that Boca Raton values quality education. Surrounded by some of the top public schools and universities in South Florida, Boca Raton residents have a long list of excellent schools to choose from. Part of the Palm Beach County Public School District, Boca Raton has the highest concentration of top public schools in the state of Florida. As of 2021, the top-ranked schools in Boca Raton include A.D. Henderson University School, Fau High School, Don Estridge High Technical Middle School, and Waters Edge Elementary School.
For those seeking higher education opportunities, Boca Raton is the location of the main campus of Florida Atlantic University. With over 33,000 students currently enrolled and offering 170 undergraduate and graduate degree programs, study a broad range of academic programs at this public four-year university. Lynn University and Everglades University are private institutions in the area. Plus with 28 colleges in the Florida College System and 171 universities in the state, start your college career while enjoying in-state tuition status.
Exclusive country club and waterfront communities in feature the finest amenities that could be found in South Florida, many with excellent golf, tennis, social and yachting options. Aside from the pleasant greenery, lovely beaches and ample opportunity for recreation and cultural experiences, the area also boasts a variety of different types of homes to select from. Whether you are a retired senior, a family or a single person looking for a great place to call home, there is sure to be a home to suit your needs.
---

View All Listings in Boca Raton
---
BOCA RATON COUNTRY CLUBS
BOCA RATON GATED COMMUNITIES
BOCA RATON DOWNTOWN CONDOS
BOCA RATON WATERFRONT CONDOS
BOCA RATON WATERFRONT COMMUNITIES
BOCA RATON TOWNHOME COMMUNITIES
BOCA RATON NON-GATED COMMUNITIES
NO HOA COMMUNITIES
55+ ACTIVE ADULT COMMUNITIES
BOCA RATON EQUESTRIAN COMMUNITIES