West Palm Beach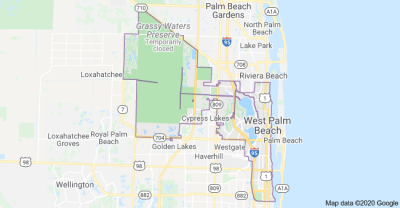 West Palm Beach  serves as Palm Beach County's administrative center and bears much historic significance as the oldest municipality in South Florida.   West Palm Beach, Florida is anything but antiquated; its bustling downtown area and thriving arts and culture make the area perfect for potential homeowners looking for a more urban lifestyle.
Still, while it's vibrant and dynamic, the city has retained a measure of Old Florida charm. The area was developed by oil magnate and Palm Beach visionary, Henry Flagler and its location provides magnificent views of the Atlantic Ocean and various waterways, as well as access to many beautiful green spaces and parks, perfect for meandering and communing with nature.
Quick Facts
Originally built as a commercial city to house the workforce serving Palm Beach's hotels. Later on it would become a busy frontier town, experience a downfall, and then pick up again. Years of developing prestigious communities and villages turned West Palm Beach into the city it is today.
The West Palm Beach Historic Preservation Program maintains 16 historical neighborhoods. There, modifications to buildings must adhere to certain ordinances to preserve their original look.
Like many other places in Palm Beach County, it is a popular destination for golf and water activities. The PGA site lists more than 20 golf courses in the city alone! Because of its convenience to the Atlantic Ocean and several other waterways, the city also boasts of plenty of opportunities for boating, fishing, snorkeling, and kayaking.
To shop, dine, party, and observe the growing art scene, people flock to downtown Clematis Street where just about everything is located, including the European-inspired shopping complex, Cityplace.
The Raymond F. Kravis Center is one of the premier performing arts centers in the Southeast with three venues: the 2,195-seat Alexander W. Dreyfoos, Jr. Concert Hall, the flexible 289-seat Rinker Playhouse and the 170-seat Helen K. Persson Hall. i
As one of the bigger and more populous cities in Palm Beach County, West Palm Beach offers a variety of residential real estate choices for almost any preference and budget.
Potential homeowners may select from all sorts of condominiums, town homes and villas, or single-family homes from the different communities in the city. There's also a wide range of architectural styles available, whether you're looking for a contemporary, tropical, or more traditionally-styled structure (the latter, especially in the historic districts). Just minutes from the Palm Beach International Airport, City Place and the Kravis Center in West Palm Beach, Worth Avenue on the Island of Palm Beach,  Jupiter,  Singer Island and Wellington.
If you care to narrow your search criteria, please refer to the Search Properties page.
---

View All Listings in West Palm Beach
---
WEST PALM BEACH COUNTRY CLUB COMMUNITIES
WEST PALM BEACH DOWNTOWN CONDOS FOR SALE
WEST PALM BEACH EQUESTRIAN HOMES FOR SALE
WEST PALM BEACH HISTORIC HOMES FOR SALE
WEST PALM BEACH LUXURY HOMES FOR SALE
WEST PALM BEACH TOWNHOMES FOR SALE
WEST PALM BEACH WATERFRONT CONDOS FOR SALE
WEST PLAM BEACH 55+ COMMUNITIES