Palm Beach, Florida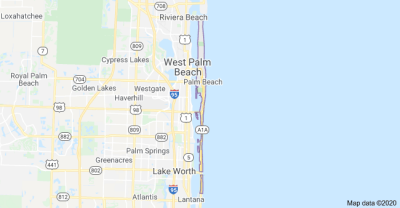 Palm Beach, Florida or just "The Island" as it is often called is known for its small-town appeal, scenic location, and high-end quality of life, and exclusivity. Palm Beach is a paradise for its permanent and seasonal residents. Located in Palm Beach County on a barrier island just east of West Palm Beach, it is surrounded by stunning beaches, the Intracoastal Waterway, and features some of the most beautiful estate homes in the world. Residents enjoy boating, private docks and marinas, golfing on lush courses, and shopping on Worth Avenue, which features exclusive high-end designer shops and boutiques, art galleries, and an array of upscale gourmet restaurants. Palm Beach's tropical climate attracts people year round, making it an ideal destination for both permanent and seasonal residents. Homes vary from beach-side condos to multimillion dollar custom estate homes.
Although tourists have been flocking to the Town of Palm Beach since before 1880, drawn by Palm Beach's innate beauty, the town was only incorporated 1911. Following years of careful planning and development, Palm Beach, FL as it stands now is a perfect example of peaceful, luxury oceanfront living. Palm Beach's residents and visitors enjoy jaw-dropping scenery, an endless list of activities to do in the area, world class golf courses, and of course, 3 miles of public beaches.
Quick Facts
Visitors to Palm Beach may enjoy a tour of historically relevant buildings such as Flagler Museum or Whitehall, the mansion built by one of visionaries behind the town's development, Henry Flagler; the Renaissance Revival-styled The Breakers Hotel; and the preserved Little Red School House, the first schoolhouse in southeast Florida which now stands in Phipps Ocean Park.
Nature lovers will delight in the observing the various flora and fauna in Palm Beach's parks. The Four Arts Botanical Gardens, a demonstration garden built to showcase the beautiful tropical plants native to South Florida, is one great example. Then there's Pan's Garden, a green space named after the flute-playing Greek god whose likeness stands at the entrance to the park.
Tennis and golf are popular pastimes in the area. Tennis enthusiasts can practice their swing at the Seaview Park Tennis Center or the Phipps Ocean Park Tennis Center, while golfers can choose from the Dick Wilson-designed Palm Beach Par 3 Golf Course or the Palm Beach Country Club, among others.
Families with school-age children may choose between Palm Beach Public Elementary or Palm Beach Day Academy private school.
Those who want to experience life in "the Island" may choose from the many upscale condos or exquisite Mediterranean-inspired estate homes, most of which have views of the Atlantic Ocean or the Intracoastal Waterway. Approximately 10,000 people reside in Palm Beach year-round, with an increases seasonal population of about 30,000 residents around in the winter months when the weather is mild. Among its residents, Palm Beach is home to dozens of billionaires, celebrities, entertainers, captains of industries, and international residents from around the world.
---

View All Listings in Palm Beach
---
PALM BEACH CONDOS AND TOWNHOMES FOR SALE
PALM BEACH LUXURY HOME COMMUNITIES