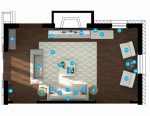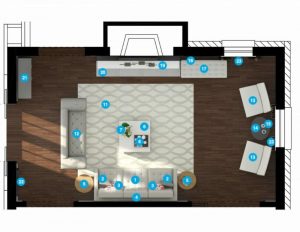 Online interior design services
 are transforming the way we access interior design help. It's the magic combination of professional design guidance, affordable prices, plus an easy and quick process that is attractive to people everywhere. Whether you're deciding what color to paint your living room, envisioning a different furniture layout need design assistance with a room or an entire home, these online resources can get you started.
Anyone who has ever considered repainting his or her home knows how overwhelming a trip to the hardware store's paint section can be. Pittsburgh Paints offers a fun way to find the best hues for you: at The Voice of Color, you can play their 13-question ColorSense Game to find out what your signature color style is. With questions about words that inspire you, your preferred scents and favorite vacation spot, the site will come up with a personalized set of colors. They'll then offer you palettes within your range of hues so you know which shades match, making it simple to coordinate every room of your house.
Whether you want to design your dream house or experiment with redecorating the home you already have, Homestyler can help you visualize your plans. The site lets you drag and drop furniture and brand-name products (there are over 15,000 items to play around with) into your virtual home to check them out before you commit to buying. You can build the online version of your house to match the specifications of the one you own, play around with new layouts and furniture, and view the whole thing in 3D for an even more realistic picture. Get design tips from their instructional online videos as well as find inspiration from the site's gallery of user-generated designs.
Ask any interior decorator how she gets inspired and she'll show you a mood board. Often featuring compilations of fabric swatches, furniture photos and torn-out pages of decorating magazines, mood boards are a great jumping-off point for any home decor project. However, not everyone has the time to cull all those bits and pieces. At mydeco, you can build your own mood board in just a few clicks. Search the site's listings, which contain thousands of pieces of furniture, works of art, maps, fabric, tiles and more, then drag them onto your virtual board. You can search by color or store to find exactly what you're looking for, or just browse your options to see what inspires. And if you fall in love with your creation, you can click on each item to purchase it.
Internet-based businesses are helping homeowners get professional design expertise and merchandise more affordably and faster than ever. The latest iteration to shake up the process is online companies that employ staff designers or freelancers with the goal of simplifying the designer-homeowner partnership and allowing the act of home furnishing to became transparent, faster, and more affordable.
Interactions with the designer can happen via email, phone, instant message, Skype, and sometimes in-person meetings. Before the homeowner signs off on a project, they are provided a floor plan or 3D rendering, which shows how to arrange the furnishings once they arrive. Since the first companies emerged in 2012, many have grown and added locations.
Here are a few online interior design firms gaining prominence.
Decorilla
: This company now uses 10,000 designers across every state and reaches internationally as well. Decorilla also has an in-house staff who handle other parts of the job, such as coordinating delivery, dealing with returned goods, and managing construction. This company starts clients out with a questionnaire, but they can also search its website to pick a designer whose portfolio they like. The company offers three packages, from basic bronze for $499 for one room to gold for several rooms for $1,699, while offering clients access to highly experienced designers. Rather than providing one plan or rendering, four options are offered to clients with realistic renderings from two different designers. Each client also gets company discounts on more than 250 well-known brands such as Wayfair, Crate and Barrel, and Jonathan Adler. Many projects incorporate one-of-a-kind goods.. For those who need less help, the company offers service starting at $75 an hour.
Decorist
: Based in San Francisco, with a roster of approximately 400 interior designers, the firm handles design projects online only. After filling out a questionnaire, clients pick from three packages: the Classic Design Service for $299 per room with the industry's most ambitious up-and-coming designers; the Elite Design Service for $599 per room with a locally established designer with regional press; or the Celebrity Design Service for $1,299 per room with a nationally recognized "A-list" interior designer. What a home owner gets: two "mood boards," the chance to chat via instant message with the designer, a final room design board and floor plan, and a detailed shopping list. Decorist's free concierge purchasing team members handle shopping and delivery.
Homepolish
: Based in New York, this firm works with freelance designers, architects, and general contractors who use the partnership to increase their exposure to new clientele and gain access to its proprietary technology and tools to run their businesses more efficiently. the company started in 2012, it has grown to a network of 1,000 professionals nationally who take on not just residential but also commercial and hospitality projects. The company also has an in-house staff of 70. Designers visit clients' spaces but can also work by video if they live far away. Prices begin at $140 an hour with a minimum of 10 hours required; hourly rates go up to more than $300 an hour. The company touts its extensive list of trade and retail vendors, and other services such as construction management. Homepolish team members make money by time spent rather than from commissions on client purchases.
Modsy
: They offer service online nationwide through video and telephone calls with four design packages available: basic for $69 per room with purchases delivered in eight to 10 days; classic for $89 per room and delivery in six to eight days; premium for $199 per room and delivery of goods in four to seven days; and multiroom at $399 for up to three rooms and delivery in four to seven days. For an extra $15, home owners can have any item they already own digitally inserted into their plan to see how it will look; a substitute but similar item can be inserted for free. Plans or renderings highlight purchases with a white dot, which, when clicked, details the product information. Designers try to give clients choices in each layout, such as a sectional or sofa or different paint palettes.