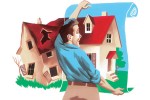 Fixer-uppers have long had their fans. Some investors love the idea of making major repairs that increase a home's value and then reselling the property for profit. Others want a low-priced starter home and don't mind making gradual improvements over time.
Buyers must do their due diligence so that they understand their total investment in the property and the cash requirements; since most repairs cannot be financed. An Exclusive Buyer Agent's goal is to help buyers avoid making expensive mistakes.
While repair issues, un-permitted work, or liens might not derail a sale on its own, they warrant a call to an expert who can assess the problem, offer solutions or give repair estimates.
Warning Signs Before Purchasing a Fixer-Upper:
Consider the amount of time and the amount of cash you have to address obvious deficiencies with the property.
Does the property smell damp? From mold to warping, moisture can cause considerable damage to homes, even making them uninhabitable. The first clue is that moisture smells. Besides damage to the house, moisture can adversely affect a homeowner or tenant's health.
Stuck windows and doors. These can also be a sign of moisture or that a house is settling due to age or structural shifting. Both are problematic.
Sloping or sagging floors. Both indicate structural problems beyond just aging. Buyers should find out if framing, joists or sub-flooring need replacement.
Foundation problems. One small crack can be just the beginning of many cracks and can signal that a house could eventually crumble.
Inward grading, poor drainage and short downspouts. Improperly installed or clogged gutters and downspouts all may cause water to enter a house.
Bad roof. An old roof may leak but it's not always the shingles or tiles that are the culprit. Sometimes, it's what's underneath – sheathing, trusses, beams and rafters. The sellers should disclose when the roof was installed.
Outdated wiring and fuses. Because homeowners rely on so much technology today, outdated wiring may, in worst cases, start a fire. Often, dated electric boxes make the home un-insurable.
Outdated plumbing. Toilets that don't flush properly, sinks and showers that lack adequate pressure or have leaks, and water heaters that don't provide enough hot water signal a need for attention. Not to mention the condition of the pipes from the home to the street.
Termite damage and wood rot. Buyers may spot blisters in wood flooring, hollow sections of wood, and even the bugs themselves. An exterminator can determine the extent of the damage and estimate repair costs.
High energy bills. This should alert buyers to the cost of cooling the home. Due diligence can tell them whether their Ac handlers, insulation, or doors and windows are inefficient and need to be sealed, repaired or replaced.
Historic home designation and zoning rules. Municipal guidelines may restrict buyers from making certain improvements to their home and property.