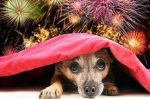 The 4th of July is here, and if your pet is afraid of fireworks and loud noises, you may need just a little more preparation to make sure your pet stays happy and relaxed during the celebration.
Set up a safe space in advance.Create a "happy place" where your pet can retreat to and feel secure. Choose a spot in your house where your pet usually likes to relax that will also buffer the sights and sounds of the fireworks, such as a walk-in closet or a room with blackout curtains. Fill it with comfortable beds and some favorite toys and make it extra awesome with playtime or treats.
Drown out the sound. Leave music playing in the safe space throughout the firework display to help block the booms. Closing all windows and doors in the house will help as well.
Provide plenty of distraction. Pull out your pet's favorite toys or stuff toys with treats to give your pet something fun to focus on during the celebration.
Don't make a fuss. When your pet is distressed, it's hard to ignore the urge to comfort them, but excessive comforting may reward your pet's behavior or (even worse!) validate their fears. Besides a few calm pats, carry on as if nothing special is happening.
Consider calming supplements or pheromones.  Starting some before the fireworks begin may help relax your pet and reduce their reactivity.