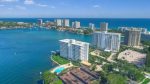 Buying a condo, short for condominium, can be a great way to dive into home ownership without worrying about much of the upkeep that comes with 
single-family homes
 and townhouses. Condo dwellers can also typically take advantage of shared amenities, plus having professional management to take care of building maintenance.
However, condos aren't for everyone so it's best to figure out what your lifestyle and budget needs are first.
Whether you are purchasing a vacation condo or making South Florida your permanent home, there are a few tips and tricks you should use to help make the condo buying decision easy and stress-free.
Here are just a few South Florida condo-buying tips to help you find your dream condo.
A condo is typically a shared piece of property with individual owners of each "unit" or condo. In most cases, condominiums offer services such as, but not limited to, fitness centers, tennis courts, and pools. Many people purchase condos due to less hands on maintenance and they enjoy lifestyle of living in a condominium community.
When buying a condominium, it is important you know that every condominium community is different. It's crucial to know each community will have their own community rules, association fees, management company, and amenities.
Financial Strength
Take a close look at the health of the association just as closely as you do the unit itself. Associations should have reserve funds to maintain the parking lots, roofs, painting , pool and other maintenance items. If there are not enough funds to pay for the repairs, it would require a loan to the association which would be paid in monthly installments or a special assessment where all owners would have to pay their portion of the repair upfront. You should take this monthly condo association fee into consideration when planning to budget for your new home. If the association is not financially healthy, you will need to prepare to pay for unexpected expenses out of your own budget.
Building Style
The style of the building in which your condo is located in can impact your financial costs over time. Garden-style buildings have lower maintenance costs than towers. Multi-story buildings and towers have elevated costs associated with maintaining the elevator systems. The number of units and the size of the units within the association will also affect your maintenance dues. A larger number units divide the fees up between more people, lowering the cost than if you had a smaller amount of units .
Insurance
Depending on the exact location in South Florida, the cost of insurance varies. Research insurance costs and availability before signing the contract for your new condo. Beaches that are located on barrier islands offer additional challenges to obtain traditional all-perils insurance policies for both the association and the condo owner.
Beach Access/Condition
If you want to purchase a condo on the beach, you'll need to consider the quality of the sand, the condition of the natural elements such as the dunes, and the width of the beach. Beach erosion is a common problem in Florida, especially after hurricanes and tropical storms hit. Take a deep dive into the history of the beach erosion and maintenance in the area you are looking to purchase your condo in. You certainly don't want to purchase a condo on a beach that is eroding or isn't properly maintained.
Mortgages and Financing
Financing a condo is not the same as financing a single-family residence. While it's critical to get approved for a loan whether buying a condo or a house, obtaining financing can be trickier for a condo purchase, because many lenders don't allow purchases of condos. Many condos are purchased with cash because of the regulations lenders and programs place. If you are looking to get an FHA loan, you'll need to first make sure the condo community is on FHA's approved list of communities. FHA typically requires that 80% of the units in the building are owner-occupied, so before you have your heart set on a property, double-check that it is on the approved list.
You can also obtain a private mortgage to purchase the condo, but this comes at a much higher price tag since many private lenders require a minimum of 20% down payment.Mortgages for condos may involve some additional steps. For condos, the condo association/complex must also be approved for a full loan approval to be issued, This may require additional paperwork, approval from the condo association, and even some additional costs paid before closing. You may need to make a bigger down payment or have extra cash in the bank since Lenders sometimes have extra requirements for condo buyers.
Association Fees
One of the largest expenses, in addition to your mortgage, will be your condo association dues. "Condo fees generally cover the maintenance of the common areas, utilities such as sewer and trash, security, building insurance, reserves and external building maintenance, In addition, whether the fees are paid monthly, quarterly, or annually, you will still be required to pay property taxes and need to carry homeowner's insurance to cover your contents and your internal structure. Prospective condo purchasers should find out how much you will pay in monthly condo dues and what the fees cover within the community. Do these fees seem reasonable in return for the maintenance and amenities that are offered?
Rules and Regulations
Condo ownership comes with rules. It's important that you understand what your unique responsibilities are to the overall community and what rules the condo association has in place. When you are buying a condo in Florida, you are required by law to receive a copy of the Declaration of the Condominium or condo docs as they are more commonly known – this is mandatory regardless of whether you are buying a resale condo, key-ready condo, or a per-construction condo. These condo docs are registered with the State and can be over 500 pages in length.
The condo docs will contain lots of specific information, including details about the developer, the formation of the Home Owners Association (HOA) and related fees, plans of the buildings, floor plans for each unit and the all important Rules and Regulations of the condominium.
Some Important information that you look for in the docs or ask for from the Condo Association:
What exactly are your ownership and voting rights within the association?
What percentage of the common expenses are you be liable for – many units offer different floor plans of various sizes, with each one making up a percentage
What restrictions are in place regarding the common elements and your unit?
Is there planning in place for further units to be constructed? Â If so, how many and when?
Does the developer have any options NOT to complete any of the facilities or amenities?
Is there a history of resident complaints at the condominium?
Is the Condominium Association currently involved in any form of litigation?
Does the Condominium Association have reserved funds set aside for maintenance projects and future capital expenditures?
What about pets – are there ANY restrictions?
Can you rent or sell your condo without restrictions?
Are there any restrictions regarding family and friends using, staying with, or occupying the unit?
Know About Special Assessments
A special assessment is a large fee that is charged to help pay for a significant project within the condo community, such as a structural repair. These special assessments can raise your association fees for a certain period of time or require a one time payment to the Association.
Whatever your preferences, carefully consider your current and future lifestyle needs, plus your financial situation. Consult with a real estate professional who specializes in selling condos to show you the ins and outs of condo living throughout your home search and protects your interests during the buying process.