Affordable Moving- Cost Effective Way to Ship Boxes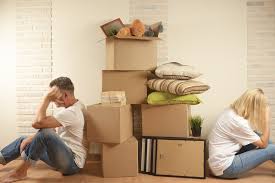 If you are moving an entire household, a professional moving company is your best option. But if you have 20-30 boxes of household goods or personal items to move, there are more affordable options. Every move is different. The key to finding the best option is to compare all of them.
Quick Reference
Ship by train – Amtrak
Ship by bus – Greyhound
Ship by marketplace -Uship, Busfreighter
Ship by car (only if you're shipping a car)
Ship by freight
Use a trailer
Amtrak
Amtrak makes use of unused cargo space on their train carriages for shipping. Individual boxes can't weigh more than 50 pounds and be larger than 36″ x 36″ x 36″. Split up your boxes into groups of 500lbs. Amtrak only allows you to ship 500lbs worth of boxes per day, so if you have more you'll need to spread out your shipments over multiple days. Make sure to coordinate pickup of your boxes at the destination ahead of time. You get 2 days to pick up everything once it has arrived.
NOTE: Starting Oct. 1, 2020, Amtrak is suspending this service until further notice. You can take advantage of shipping your boxes cheaply before then.
Greyhound Package Express
The unused space in the luggage compartments of their buses is used to offer their Package Express service. Shipping will cost you around a dollar per pound, keeping your costs down if you only have a few boxes to move. While you usually drop off and collect your boxes from their depot, they'll collect and deliver to your address for an additional fee.
Package everything in boxes or containers no larger than 30″x47″x82″ and no heavier than 100 lbs. Everything needs to be able to fit under the bus.
You need to be sure that fragile items are packed very well to avoid damage during the journey. All boxes will need to be inspected before being accepted. This means that you shouldn't tape them up before dropping them off or having them collected. There's a long list of prohibited items that cannot be sent on a Greyhound bus, so check their site for details.
Busfreighter
The Busfreighter business is partnered with Greyhound, offering the same service as the bus company. They're able to offer slightly better prices on shipping. The rules for Busfreighter are very similar to Greyhound. The cheapest way to ship boxes with Busfreighter is to drop them off at the Greyhound station unsealed. Expect delivery to take two days for shorter journeys, and up to four days for transportation over 500 miles.
uShip
uShip offers a marketplace for truck drivers to bid for boxes to take on journeys they're already making. This allows a trucker to fill any unused space and earn the driver more money for not much extra work. It can also mean very low prices for the customer, though this depends on how many trucks take the route and the bids you receive as a result. The more bids you get, the lower the price will be, but the prices might not be better than other options if it isn't a popular route for truckers.
You can check the feedback of drivers before you agree to use them, and all truckers have been verified by uShip. There's more leeway on the size of the box you can have shipped, and you can purchase insurance through the site. They don't have restrictions on what you can have shipped either; it depends on what the driver is willing to take.
Ship by Car:
This option is only relevant if you're planning on shipping a car at the same time as the boxes. Most auto transporters will allow you to put items in the car. Most auto shippers allow for 100lbs to be shipped inside the car as part of the base cost. Additional weight may cost extra depending on the auto shipper. There may also be restrictions around the numbers of boxes or suitcases you can put inside the vehicle.
Freight Shipping:
For those who don't mind getting their hands dirty, freight shipping can be a very economical option.
Put all the boxes on a wood pallet and shrink wrap it. Use alot of shrink wrap. Make sure to shrink wrap around the actual pallet so everything stays anchored to it.
Load the pallet up with boxes at a location where it can easily be brought out to the truck, i.e. your garage.
Now you need to call around and get rates from freight companies.
Haggle, haggle, haggle. Carriers are going to try and overcharge you. You should be able to get 1 pallet shipped for a few hundred dollars depending on the details.
You'll probably need a liftgate (small elevator on the back of the truck that will bring the pallet down to ground level) and a pallet jack to move the pallet. This will be a small additional charge. Make sure to let the shipper know you need these services.
Freight can also be a good option if you're just trying to ship a couch or single furniture item. ShipSmart, (866) 333-8018, will actually do all the work of prepping and shipping your goods via freight for you.
Tow Trailer:
If you're already planning on driving and your car meets the towing requirements, a cargo trailer can be a great way to transport small and even larger moves. UHaul is the only company that rents trailers for long distance moves.
Keep in mind, tow-behind trailers are responsible for a lot of accidents and can be dangerous. If you don't have experience hitching and driving with a trailer, this is not a recommended method.