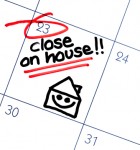 When buying a home, most people focus on how much the home costs and what interest rate they can get on the loan. While understanding the lending process is very important, the other fees that home buyers overlook when it comes to their home purchase.
There are some fees that will require up-front payment. Other fees may be rolled into the loan for your home. It's important to understand the difference and know what you'll be expected to pay.
Earnest Money Deposit
To prove you're "earnest" in your purchase commitment, a buyer can expect to deposit to a trust account 1% to 2% of the total purchase price as an earnest money deposit within days of entering into a contract.This amount can change depending on market factors. If demand in your area is high, a seller could expect a larger deposit. If the market is cold, a seller could be happy with less than 1%.
Other governing factors like state limitations and rules can cap how much earnest money a seller can ask for.
Escrow account
An escrow account is basically a way for your mortgage company to make sure you have enough money to cover related taxes, insurance and possibly mortgage insurance. The amount you need to pay varies by location, lender, and loan type. It could cover costs for a few months to a year.
If you only provide a small down payment, you may be required to purchase private mortgage insurance. Private mortgage insurance, commonly referred to as PMI, is typically provided by a private mortgage insurance company to protect lenders against loss if a borrower defaults.
Sometimes this means you are required to pay a full year's worth at time of purchase, or it will be rolled into your monthly payment.
Escrow accounts are common for loans with less than a 20% down payment and mandatory for FHA loans, but it's not required for VA loans.
Origination Fees & Points
The origination fee is the price you pay the loan officer or broker for completing the loan, and it includes underwriting, originating, and processing costs.
The origination fee is a small percentage of the total loan. A typical origination fee is about 1%, but it can vary. You should shop lenders for more than interest rate, but all of the fees associated with the loan.
Inspections
You want to be assured your new home is structurally sound and free of defects before you complete the purchase. Those assurances come with a price.
Home inspection: This is critical for homebuyers. A good inspector will be able to notify you of structural problems, defective applianes, leaks, and other potentially serious problems. Expect to pay $300 to $800 for a home inspection, although cost varies by location and the size of the home and how many stories it is.
Radon inspection: An EPA-recommended step, this inspection will determine whether your prospective home has elevated levels of the cancer-causing agent radon. A professional radon inspection can cost several hundred dollars.
Pest inspections: Roaches are one thing. Termites or wood fungus are a whole different story. Expect to pay up to $150 for a Wood Destroying Organism inspection.
Attorney
Some states, such as North Carolina, require an attorney to be present at closing. In other states, such as Florida, this is optional. If you use a lawyer, expect to cover the costs, which vary by area and lawyer and what the attorney is being asked to do.
Credit check
Just because you can get your credit report for free doesn't mean your lender can (and they will actually pull all three). You have to reimburse the lender, usually around for these reports that usually run about $30.
Insurance
If you live in a hazard-prone area, you might need to purchase extra insurance in addition to homeowners insurance, these can include wind and flood. Lenders will require that you purchase the required insurance to protect their investment. If you are a cash buyer, you have the option of buying insurance or self-insuring. Make sure you understand the risks.
Appraisal
Your lender will not approve a loan for a home without knowing what its fair market value is. They will determine this value based on an appraisal.  Appraisal costs vary by market area and the size and complexity of the property. An appraisal will typically cost $250 to $1000.
Title Insurance
Title insurance covers you in the unlikely case that the person who sold you the house didn't actually own it or if information on the title was false. Typically this is verified before the purchase of your home, but this insurance protects the lender or the buyer against loss arising from disputes over ownership of a property.
The lender will require you to have title insurance for the value of the loan. You are also required to have title insurance on the value of the property. Whether the buyer or seller pays for this is area specific and is a protocol not a mandate and can be negotiated as a condition of the contract.
Survey
A survey is not required in all instances, but your lender may require a professional surveyor to determine exactly where your property lines are drawn. Your attorney will also review the survey to ensure that there are no encroachments. Prices vary widely, but expect to pay at least $100.
Document preparation fees:
The lender, broker, Title Company or closing attorney will usually have a fee to cover the preparation of the required documents for the loan and closing paperwork. These fees are typically rolled in closing costs for the home and may be covered by either the homebuyer or seller.
State Recording Fees:
Depending on where you live, there may be a fee required for recording and holding the information regarding the sale.