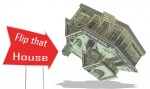 Flipping is when real estate investors buy real estate and then resells them at a profit months down the road. Can you make money doing this? Yes.
Can you make a lot of money doing this? Yes.
But you can also lose everything you own if you make a bad decision….Absolutely!
A renovation can be an overwhelming experience with high stakes. Investors must create an overall vision for the project, gauge its financial feasibility, build a reliable team that includes a Realtor, contractors, lender, accountant, insurance agent, designer or architect, and attorney or Title Company, be highly capitalized, and hope that their assessment of the market is accurate and that the property sells quickly. The longer your cash is tied up and you are paying expenses the less profitable your investment.
Thanks to tighter lending standards you will need plenty of cash, and nerves of steel, to get into flipping. So what do you need to get started?
First, you need an excellent credit score. Lenders have tightened their requirements for home loans, especially if you want a loan for a high-risk house flip.
You need CASH! Use the cash for a down payment, so you don't have to pay private mortgage insurance (PMI) on your second mortgage. You could also take out a home equity line of credit (HELOC), if you qualify. If you have enough in savings, and you manage to find a bargain-priced property, you can buy the property for cash, and take out a small loan or line of credit to pay for the renovations, Realtor fees, and closing costs.
A great way to get started flipping houses – especially if you have little money – is to form a joint venture with a partner who has money. If you don't have the money, the joint venture partner will fund the deal while you do all the work. Although you may not get rich on your first deal, you'll gain something even more valuable – experience.
What Makes a Good Real Estate Investment?
Finding an undervalued property in this market can be a challenge. With foreclosure rates down and bank owned property inventory drying up, there is a shortage of inventory compared to just a year ago.  Utilizing real estate professionals will greatly assist you in finding suitable properties.
Location. Expert flippers can't stress this enough. Find a home in a desirable neighborhood, or in a city where people want to live. Start by researching local cities and neighborhoods. Look for areas with rising real estate sales, employment growth, and good schools.
Sound Condition. You don't want to tear the house down, and start rebuilding it from scratch. Look for structurally sound homes. You may not have the opportunity to have a home inspected, especially if you buy the home at a real estate auction. You need to learn what to look for, or bring someone knowledgeable about building, electric, and plumbing with you to look at the home, to determine if the home is structurally sound.
The Right Fixes. A home with old carpet and wallpaper may be easy, and cheap, to update. Other home repairs to tackle might include, replacing outdated kitchen and bathrooms, and replacing windows and doors. A house that has mold, needs a roof replacement, or needs rewiring, requires some serious time and cash to update and sell. Make sure you know which updates and repairs you can afford to fix, which repairs you can't afford, and which home improvements will increase the selling price of the house. When you estimate the cost of any job, experts advise that you add 20% to the final estimate. Why? It's always going to cost more than you think it will.
Value. Make sure the price of the home is below its value in the local market. Otherwise, you will not make money. The worst house in a great neighborhood has nowhere to go but up in value, due to the value of the other homes in the area. Know which home improvements increase the home's value. Focus on these projects first. Home improvements that increase the value of a home might include upgrading kitchen appliances, repainting the home's exteriors, installing additional closet storage space, upgrading the deck, replacing windows and doors.
Before you make an offer, make sure you know the uppermost price you can pay for a house, and still make a profit. This includes your estimate for repairs, interest, and taxes. Remember to pad your estimate by 20%. If the homeowner or bank won't sell to you for this price, walk away. It's better to keep looking, than to risk going broke from a bad investment.
Now Get Working
Make sure you know which home improvement projects you can complete quickly and successfully, and which projects will need contractors.
You need permits before you start remodeling. Not having the right permits, or not correctly displaying permits, can cause serious delays, and fines, from city inspectors. Make sure to apply for permits as soon as the sale is final. It's also helpful to make a timeline for projects, with associated deadlines, and the budget listed for each project. This helps you, and your contractors, get renovations done quickly, and within budget.
Relist and Sell
Many flippers end up listing their homes with a Realtor. Realtors eat and sleep real estate, have access to buyers, and can list your house in the MLS database. They also know the current market fluctuations, and have the skills and network to get you the best price quickly.
Final Word
Without a doubt, flipping homes offer great risks, and great rewards. A house flipper must be prepared for the possibility that the home won't sell right away. House flippers also have to make tough decisions, like whether to accept an offer that is less than they wanted, but still for a profit. If you can handle all of the ups and downs, and you have the time and enthusiasm for fixing up and selling homes, then house flipping might be right for you.