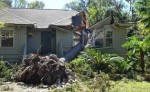 Florida, Georgia and North Carolina residents affected by Hurricane Matthew will begin surveying damages to their property and belongings.
Florida Chief Financial Officer Jeff Atwater and Insurance Commissioner David Altmaier put together the following tips to help Floridians begin the process of filing insurance claims for damaged property and belongings and this may prove useful to residents in other states as well:
Tip 1: Locate all applicable insurance policies. This may include a homeowners' policy, flood policy (flood coverage is not covered under a typical homeowners' policy and is separate coverage), and an automobile policy (may cover damage to your car from flooding).
Tip 2: Document all damaged property and belongings. Take photos or shoot video footage before attempting any temporary repairs. When you file an insurance claim, you may be asked for visual documentation of damages.
A photographic home inventory is a handy resource for this situation. A free smartphone app developed by the National Association of Insurance Commissioners called "MyHome Scr.APP.book" can help you take and store a room-by-room log of photos.
Tip 3: Contact your insurance company or insurance agent as soon as possible to report damages.Insurance policies require prompt reporting of claims, so it is important to act as soon as possible.
Tip 4: Cover damaged areas exposed to the elements to prevent further damage. Your insurance company may reimburse the expense of these temporary repairs, so keep all receipts.
Do not dispose of any damaged personal property until your insurance company adjuster has had an opportunity to survey it.
Florida consumers who have questions about their insurance coverage are encouraged to call CFO Atwater's Department of Financial Services, Division of Consumer Services' Insurance Helpline. Helpline experts can be reached by calling 1-877-MY-FL-CFO (1- 877-693-5236), or online at: myfloridacfo.com/hurricanematthew.