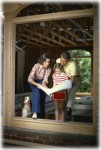 Housing Starts and consumer inflation heated up in January, but Retail Sales and Existing Home Sales stayed on the chilly side.
The Commerce Department reported that January Housing Starts jumped 9.7 percent from December to an annual rate of 1.326 million units. This was the highest level since October 2016 and up 7.3 percent from January 2017. Single-family starts, which account for the largest share of the market, rose 3.7 percent from December while multi-dwelling starts with five or more units surged 19.7 percent. Housing Starts rose in the Northeast, South and West but declined in the Midwest.
Building Permits, a sign of future construction, rose 7.4 percent from December to an annual rate of 1.396 million units. With many buyers facing inventory shortages across much of the country, this strong report regarding new home construction is a welcome sign!
The National Association of REALTORS® reported that January Existing Home Sales declined 3.2 percent from December to an annual rate of 5.38 million units. Sales were down 4.8 percent from a year ago, the largest decline since August 2014. Low inventories of homes for sale were indeed a thorn in the side of would-be buyers with just a 3.4-month supply available at the current sales pace. A 6-month supply is considered healthy.
Retail Sales also disappointed in January, as the Commerce Department reported a 0.3 percent decrease. December's reading was also revised downward to 0 percent from a 0.4 percent increase. The key highlight was that consumer spending wasn't strong in recent months, and this could impact GDP expectations.
Consumer inflation edged higher in January, with an important component jumping to a 12-month high! The Consumer Price Index (CPI) rose 0.5 percent in January, just above expectations due to higher gasoline prices, the Labor Department reported. Core CPI, which strips out volatile food and energy prices, rose 0.3 percent from December. This was the largest increase in a year, boosted by rising rents.
Inflation reduces the value of fixed investments like Mortgage Bonds. This means signs of inflation can hurt Mortgage Bonds and impact the home loan rates tied to them, which is a trend we've seen through much of this year. Stocks have also reacted negatively to hints that inflation was on the rise because inflation brings higher rates and higher rates hurt corporate borrowing. Stocks even entered correction territory in early February, meaning a 10 percent decline from recent highs.