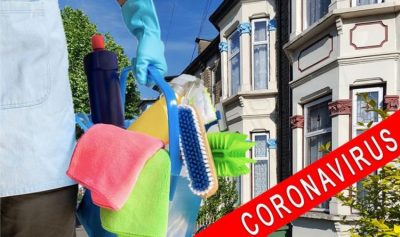 For many people, staying safe from the new coronavirus means staying home. But infectious germs can live in your house, too.
Although the CDC has not found evidence of surface-to-person transmission to date (which is good news!), the virus may live on surfaces for hours to days, making regular cleaning and disinfecting a wise practice during this time.
To minimize the risk of getting sick, the Centers for Disease Control and Prevention recommend taking action to disinfect high-touch surfaces, such as countertops, doorknobs, cellphones and toilet flush handles, since some pathogens can live on surfaces for several hours.
Here are some other tips for staying safe at home:
The CDC recommends washing hands vigorously with soap and water for at least 20 seconds. As a backup, use hand sanitizers that are at least 60% alcohol.
The Environmental Protection Agency recently released a list of approved disinfectants to kill coronavirus. For surface cleaning, look for products such as wipes, sprays and concentrates that say "disinfectant" on the label and include an EPA registration number. These are required to meet government specifications for safety and effectiveness.  For a homemade disinfectant, the CDC recommends mixing a quarter-cup of household chlorine bleach with one gallon of cool water.
After disinfecting food-prep surfaces such as cutting boards and countertops, rinse them with water before use.
For laundry, use detergent and bleach (for white loads) or peroxide or color-safe bleach (for colors) to kill germs. (Be sure to read clothing labels to avoid damaging garments.) To boost the effect, some washing machines have sanitize or steam settings that kill germs. Drying laundry on the dryer's hot cycle for 45 minutes also is effective.
If possible, operate dishwashers on the sanitizing cycle. Machines certified by NSF International, formerly known as the National Sanitation Foundation, must reach a final rinse temperature of 150 degrees and achieve a minimum 99.999% reduction of bacteria when operated on that cycle.
Household air purifiers and filters that advertise the ability to kill or capture viruses can be useful but shouldn't be a substitute for cleaning. Some purifiers use ultraviolet light, which has been shown to have germicidal effects, but their overall effectiveness can vary depending on their design, according to a 2018 technical summary of residential air cleaners by the EPA. While some filters advertise the ability to capture things like viruses, smoke and common allergens, they don't necessarily kill microorganisms
Upgrade Hand-Washing Stations
Stock up every sink in the house to make hand-washing easier and more sanitary with:
A bottle of liquid hand soap (anti-bacterial soap not needed)
Stacks of fresh hand towels and a hamper for dirty towels, or a roll of paper towels and a wastebasket
A container of sanitizing wipes for daily cleaning of faucets and counters
Use the Right Products — and Follow Instructions
When it comes to cleaning, regular soap and water is all you need. But for the second step of disinfecting, it's important to be sure you're using the right product. Already have rubbing alcohol or bleach in your cupboards? Either one will fight the COVID-19 virus. (A word of caution on using bleach to clean surfaces: It can discolor laminate and may damage the seal on granite and other stone countertops over time.)
If surfaces are dirty, remember to clean with soap and water first.
To prepare a bleach solution, mix 5 tablespoons (⅓ cup) bleach per gallon of water, or 4 teaspoons bleach per quart of water. Never mix household bleach with ammonia or any other cleaners.
If using rubbing alcohol,choose an alcohol solution containing at least 70% alcohol.
Check expiration dates. Do not use expired products, as they may not be effective against the COVID-19 virus.
Follow label instructions. Clorox has issued specific recommendations for preventing the spread of the COVID-19 virus, including leaving bleach solution on surfaces for five minutes.
Focus on High-Touch Surfaces
Cleaning and sanitizing the entire house would be overwhelming — and probably excessive. Instead, focus on the surfaces that get lots of contact throughout the day. These areas include doorknobs, light switches, tables, remote controls, handles, desks, toilets and sinks. And if you have kids or housemates who play video games, include those video game controllers.
Start a Just-Got-Home Routine
Put your belongings down in one spot, paying attention to what you carried with you throughout the day — likely suspects include your phone, key ring and sunglasses. Wash your hands for 20 seconds, then wipe personal items with an EPA-registered disinfecting wipe and leave to dry. When cleaning electronics, keep liquids away from openings, never submerge devices, and be especially gentle with touchscreens.
Help Kids Follow the Recommendations
If you have kids at home — especially if they're not so keen on frequent hand-washing — consider one or more of these to make the ritual more fun:
Let your child pick out a fragrant hand soap or put hand soap in a colorful container.
Tape the verse of a silly song to the mirror so they can sing for the recommended 20 seconds.
For younger children, cue up a song to sing along to on your phone.
Be sure a sturdy stool is positioned by every sink in the house to make the soap and water accessible.
Do the Laundry, Wash Your Hands
If you have a cloth laundry hamper liner, toss it in the wash when you do the laundry. Wash laundry on the warmest setting your clothes and linens can handle, and avoid shaking dirty laundry, which can spread virus through the air. And when you're done handling dirty clothes and towels, be sure to wash your hands.