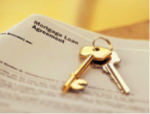 If you are hoping to become a homeowner, it is highly likely that you'll need a mortgage. Before house-hunting ever begins, it is good to know just how much you can afford to borrow. All prospective homeowners must go through the process of getting pre-approved to see if they qualify for the loan and to determine how much you can afford to invest in a new home. New buyers can be understandably overwhelmed by mortgages in general, but knowing how to go about getting a mortgage before diving in is a good first step. Getting pre-approved is not as daunting a task as you might think.
Understanding your finances and the total cost of owning a home is key to determining your home budget. When figuring out what kind of mortgage payment one can afford, other factors such as taxes maintenance, insurance, and other expenses should be factored. Usually, lenders want borrowers having monthly payments exceeding more than 28% to 44% of the borrower's monthly income. For those who have excellent credit, the lender may allow the payments to exceed 44%. There are many websites available to assist you in determining what the mortgage payment would be based on the amount borrowed and the interest rate. If you adjust the loan amounts and hit the search button, the monthly payment numbers will automatically update. Another factor in determining how much you can borrow is a direct function of how much cash you have to put down on the property.
Have you heard the terms "pre-qualified" or "pre-approved?" It's important to know the difference. With a pre-qualification, the borrower and lender have discussed income, assets, and credit, but it is not formally verified. A pre-approval, however, is a formal review of the same things as a pre-qualification, as well as a review of the borrower's full credit report. Having the pre-approval documentation is better because it is a true representation of the mortgage loan you are eligible for and is often required when submitting an offer on a home.
Through the credit report, lenders acquire the borrower's credit score, also called the FICO score and this information can be acquired from the major credit bureaus TransUnion, Experian, and Equifax. The FICO score represents the statistical summary of data contained within the credit report. It includes bill payment history and the number of outstanding debts in comparison to the borrower's income.
The higher the borrower's credit score, the easier it is to obtain a loan or to pre-qualify for a mortgage. If the borrower routinely pays bills late, then a lower credit score is expected. A lower score may persuade the lender to reject the application, require a large down payment, or assess a high interest rate in order to reduce the risk they are taking on the borrower.
Many people have issues on their credit report, which they are unaware of. The first step in determining if you have any outstanding issues is to get a copy of your credit report. AnnualCreditReport.com allows you to see your credit reports from Experian, Equifax & TransUnion for free.
Next, it's time for the paperwork. Gather and keep every piece of financial paper in the two months leading up to buying a house. That means pay stubs, bank statements for savings, checking and investment accounts, W-2s, tax returns for the previous two years, canceled rent checks and any mortgage or property tax statements for other property you own. Put these in PDF format to make it easier to send to your mortgage broker or bank.
In the months leading up to your home purchase, keep your hands off your finances. That includes moving money from a savings account into a certificate of deposit, or CD. It also means no cashing in investments from stocks, retirement accounts or CDs. Otherwise, you will create a huge headache for yourself as you try to show the bank the paper trail of where that money came from. In a similar vein, avoid paying off debts with savings because that could cause your lender to worry about how you will pay for closing costs.
Once you're ready to start the pre-approval process, you'll need to fill out the mortgage pre-approval application itself. Make sure you complete it as accurately as possible. The standard application asks for personal information such as financial account numbers and the desired borrowing amount, which is also called the target loan amount. It might seem unnerving to disclose your personal finance information and work history, but this is standard information that lenders use to assure you are financially responsible enough to undertake such a large loan. Working with a lender you trust will make sharing this information more comfortable. After you've completed and signed the forms, your lender will need to review and sign them and begin the loan approval process.
Once you get the Preapproval that means the lender will actually loan the money on a property based on your current financial situation after an appraisal of the property and a purchase contract and title report has been drawn up.
After you've finished your application and it is approved, you can begin to look for a home. Most mortgage pre-approvals are open for 60-90 days and after this time it expires. If your search extends beyond that, simply resubmit your application to refresh this term if you haven't started the purchase process yet. Although getting a mortgage can sound like a lot of work, understanding what to do before starting your home search will only help ease the stress. The mortgage pre-approval may very well be the most important aspect of looking to purchase a home, as it helps define your price range. There are a few steps to the mortgage pre-approval process, so shopping around and working with a helpful lender you trust will only make the process easier and more productive for you.