South Palm Beach, Florida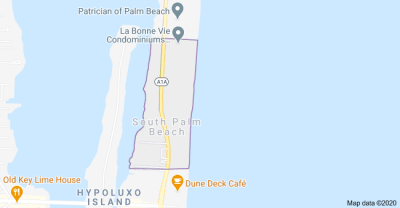 South Palm Beach, located in Palm Beach County, Florida, encompasses just  a 0.3 square mile area on a barrier island that has the Atlantic Ocean on one side and the Intracoastal Waterway on the other, South Palm Beach's permanent and part-time residents enjoy a tight-knit sense of community that can only be found in small towns.
Perfectly framed by the ocean and Lake Worth, South Palm Beach, Florida attracts those who desire to live by the water, appreciate the tranquility of island living, and enjoy the camaraderie that comes with being part of a small community.
Quick Facts
South Palm Beach is bordered by Palm Beach on its northern side and Lantana on the south side. These two communities, as well as the rest of Palm Beach County, are easily accessible for those looking for more business, recreation, and education options.
One resident who has gained prominence in the town is the "Turtle Man," Robert Schonfield. Mr. Schonfield has spent at least 16 years extensively monitoring the local turtles on the county's various beaches. Because of this, he was officially designated as South Palm Beach Turtle Monitor and he makes sure that the turtles are able to make their nests undisturbed.
South Palm Beach's council holds several educational and cultural events for the community every year such as yoga classes, classical music concerts and various lectures by field experts.
In as much as it is on a barrier island, virtually every section of the town of South Palm Beach has spectacular views of the ocean and waterways. As such, there are plenty of waterfront low-rise condominium complexes as well as a variety of other types of residential properties in the area.
---

View All Listings in South Palm Beach
---
SOUTH PALM BEACH CONDOMINIUMS