Palm Beach Gardens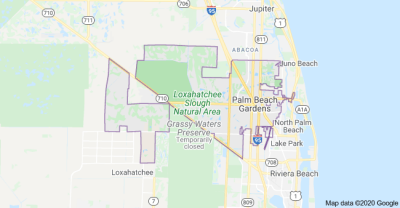 Palm Beach Gardens, located in north Palm Beach County, Florida prides itself on offering its residents the best luxuries man and nature can provide. The brainchild of insurance magnate and visionary John D. Macarthur, its lush landscape is a harmonious blend of South Florida's tropical plants and transplanted trees and greenery, all growing around several luxury gated neighborhoods and residential areas.
Palm Beach Gardens is also known as the "golfing capital of America," the city is home to dozens of elite golf clubs including the PGA National Resorts and Spa.
Quick Facts
Palm Beach Gardens  prominently features two transplanted banyan trees, the first of which was saved from being cut down. Both trees still proudly stand at the center of Macarthur Boulevard.
Downtown at the Gardens, an open-air shopping and entertainment complex, takes full advantage of the lovely weather with its Lakeside Park and outdoor dining court, perfect for watching people and performances. Downtown's wooden carousel is also popular with younger children.
Nearby at North Palm Beach is Macarthur Beach State Park, the county's only state park. The park preserves several habitats like the maritime hammock, a natural shaded area featuring many species of tropical and temperate flora; the estuary, which is home to fiddler crabs, manatees, and other marine animals; the sandy dunes and beaches; and the limestone reef where one might find barracuda and sea turtles. Visitors can commune with nature by kayaking or hiking the many trails.
Daredevils and those with a need for speed may want to test their mettle and driving skills at the Palm Beach International Raceway located in nearby Jupiter, FL. Here, racers can speed along on various courses like the drag strip and road course.
Private and public education is available for primary, secondary and high school levels. It's worth noting that the School District of Palm Beach County is also one of the city's top employers.
Palm Beach Gardens, FL is famous for its exclusive neighborhoods where one might find grand waterfront homes and estates or opulent golf communities offering the best on-site amenities.  Palm Beach Gardens is home to the headquarters of the Professional Golfers' Association of America (PGA) and each year hosts legendary professional golfers at The Honda Classic. For your shopping pleasure, Downtown at the Gardens  is an open-air, pedestrian-only shopping mecca  and The Gardens Mall offers high-end destination shopping set in exquisite décor. Palm Beach Gardens also offers fine hotels, a wide variety of recreational enticements and convenient proximity to the beaches and Palm Beach International Airport.
If you care to narrow your search criteria, please refer to the Search Properties page.
---

View All Listings in Palm Beach Gardens
---
PALM BEACH GARDENS COUNTRY CLUBS
PALM BEACH GARDENS GATED COMMUNITIES
PALM BEACH GARDENS WATERFRONT COMMUNITIES
PALM BEACH GARDENS NON-GATED COMMUNITIES
PALM BEACH GARDENS CONDOS & TOWN HOMES FOR SALE
PALM BEACH GARDENS EQUESTRIAN COMMUNITIES FOR SALE
PALM BEACH GARDENS WATERFRONT CONDOS
PALM BEACH GARDENS 55+ COMMUNITIES FOR SALE