Pompano Beach, FL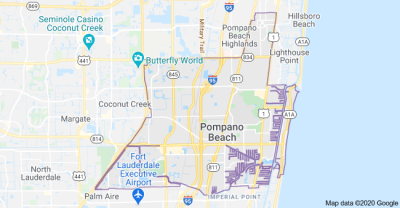 Pompano Beach, FL has great beaches, fantastic shopping and dining options, and a historic downtown district making it one of the top destinations in South Florida. A metropolis in Broward County, the so-called Heart of the Gold Coast is tucked snugly between the cities of Fort Lauderdale and Boca Raton. Pompano Beach, FL is a haven for anglers, divers, and snorkelers due to great fishing and diving opportunities found in its warm and clear waters. Combine terrific recreational opportunities, awesome city life, and local charm and the end result is "Florida's Warmest Welcome."
Quick Facts
Holds the distinction of being Broward County's second oldest city and South Florida's fifth oldest city. In 2008, the city celebrated its centennial anniversary.
According to local legend, Frank Sheene gave Pompano Beach, FL its name after a species of fish found in the Atlantic. One evening, during a survey of the shoreline, he dined on pompano fish and made a notation on a survey map to remember its name.
Hosts several events every year to foster community involvement. Events such as Business to Business Expo, Holiday Boat Parade, Seafood Festival, and Pompano's Golf Tournament draw locals and tourists together for a celebration of Pompano Beach's best of the best.
The city is served by Broward County Public Schools and is home to the award-winning Pompano Beach High School. This top-performing school has been named a National Blue Ribbon School of Excellence as well as a National Magnet School of Distinction. Pompano Beach is also home to Pompano Beach Middle School and Pompano Beach Elementary School.
Locals and visitors often head to the Pompano Beach Pier, which stretches 1,000 ft. and is an excellent snapper fishing spot. Another major draw, particularly for divers, is the living coral reef found offshore.
If you're not in the mood to go on or in the water, you can opt to practice your swing at the two municipal courses – the Greg Norman Signature Pines Golf Course and the Palms Course. Looking to shop? You can head to the Festival Flea Market Mall, the Pompano Citi Centre, and other shopping centers.
Pompano Beach's real estate market offers potential homebuyers some of the most beautiful waterfront homes in the region. Single-family homes that offer direct access to the ocean are perfect for buyers with small or large vessels. Homes fronting the Intracoastal Waterway and single-family residences that have access to ocean canals are also available and may or may not feature fixed bridges.
---

View All Listings in Pompano Beach
---
POMPANO BEACH CONDOS FOR SALE
POMPANO BEACH WATERFRONT CONDOS FOR SALE
POMPANO BEACH WATERFRONT HOMES FOR SALE
POMPANO BEACH WATERFRONT TOWNHOMES FOR SALE