Jupiter, Florida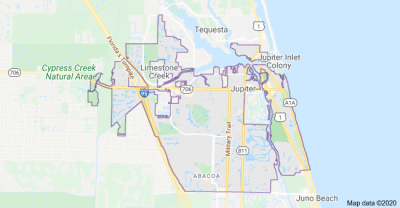 Jupiter is a beautiful beach town known for its waves, sea turtles, boating, fine dining and shopping, coupled with magnificent views and raw, natural beauty. Whether you're looking to find out about the latest events around town, or want to visit some of the greatest beaches that South Florida has to offer, or want to revel in the majestic view at the top of the famed Jupiter Lighthouse, or learn and indulge in the culinary wonders that this area offers, we've got you covered here.
Running along the coast of the Atlantic Ocean, the Town of Jupiter in Palm Beach County encompasses nearly 40 miles and multiple rivers, the Jupiter Waterway Trail carves out a natural playground of surfing beaches, crystal-clear inlets and lush coastal rivers waiting to reveal their secrets. These vistas, along with its year-round temperate climate as well as the many beautifully designed golf courses studding the town's landscape, have attracted people since its incorporation in 1925.
With its many neighborhoods offering the best of luxury country club or waterfront living, Jupiter truly embodies its role as one of the country's happiest seaside towns – an accolade it received from Coastal Living Magazine in 2012.
Hop in a canoe and navigate the cypress and mangrove swamps of the Loxahatchee River, one of only two rivers in Florida with a "Wild and Scenic" designation. A popular shove-off point is Riverbend Park, which also offers horse trails and hiking through Seminole Indian historic sites. Right in town, the turquoise lagoons of DuBois Park and Jupiter Beach Park are ideal for swimming, stand-up paddleboarding and snorkeling.
Learn about local marine life at the River Center. Snag a diamond-side seat to Florida's Grapefruit League during MLB spring training at Roger Dean Chevrolet Stadium. Catch a concert at Harbourside Place. Or simply wiggle your toes in the sand at one of our beach resorts. There's always something to do – and plenty of enticing ways to do nothing at all.
There's plenty to do on dry land too. Towering above the coast, the brick-red Jupiter Inlet Lighthouse is one of the oldest and most iconic structures in The Palm Beaches. Climb all 105 feet to the top for a gull's-eye view of the coast; afterward, wear your best flip-flops to Guanabana's, Square Grouper Tiki Bar and other low-key local favorites for fresh-caught seafood, tropical drinks and killer views (you can even arrive by boat).
Quick Facts
Lovers of maritime history may enjoy climbing the Jupiter Inlet Lighthouse. Built in 1860, the lighthouse was placed on the National Register of Historic Places in the 1970s. These days, the landmark stands alongside a museum run by the Loxahatchee River Historical Society.
As with many of its Palm Beach County neighbors, golf is a very popular activity.  The Professional Golfers' Association of America's website lists 15 golf clubs, all of which have various offerings and courses that appeal to every kind of golfer.
With so many bodies of water around the area and near-perfect weather all-year long, it's no surprise that activities like kayaking, fishing, and boating are a major draw for residents and visitors alike. It's worth noting that the city is also proudly home to one of the few dog-friendly beaches in the state.
Jupiter Riverwalk, a recreational corridor which will link many of  parks, marinas, event spaces, and communities. This will give visitors easy access to various points of interest in town along with the opportunity to observe the variety of plants and wildlife in the area.
The town's exclusive golf neighborhoods and scenic waterfront communities are its top draw. Prospective homebuyers may choose from upscale condominiums with world-class conveniences. There are also magnificent estate properties, many with waterfront access, as well as townhomes designed in Tuscan or Caribbean Transitional styles, among others. Wherever they choose to take up residence among the town's many communities, Jupiter homeowners are sure to enjoy the perks of idyllic resort town living.
---

View All Listings in Jupiter
---
JUPITER FL COUNTRY CLUB COMMUNITIES FOR SALE
JUPITER WATERFRONT COMMUNITIES FOR SALE
JUPITER FL WATERFRONT CONDOS AND TOWNHOMES FOR SALE
JUPITER FL EQUESTRIAN COMMUNITIES FOR SALE
JUPITER FL GATED COMMUNITIES FOR SALE
JUPITER FL NON-GATED COMMUNITIES FOR SALE
JUPITER FL TOWNHOME AND CONDOS COMMUNITIES FOR SALE