Lighthouse Point, FL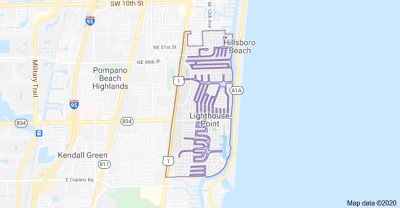 Lighthouse Point is a Broward County gem, this small city offers its residents a leisurely way of life. A perfect combination of informal affluence and laid back living gives the community a comfortable vibe that attracts people from all over the country and the world. Once an area covered with fertile farmland and mangrove swamps, Lighthouse Point, Florida  today is home to approximately 20 acres of parkland, recreational amenities, and attractive neighborhoods. Lighthouse Point is  only a short drive away from Hillsboro Beach, Pompano Beach,  Deerfield Beach, and Boca Raton.
Quick Facts
Named after Hillsboro Beach's famous Hillsboro Inlet Lighthouse, which marks the coral formation of the Florida Reef.
The town  is relatively young; the first home in the area was built by a woman named Juliette Becker in the late 1940s. Further development was sparked upon R.E. Batemen's acquisition of land in 1951. The city was incorporated on June 13, 1956 and finally received its state charter in June 1957.
Home to several parks and mini-parks. The 6-acre Dan Witt Park offers various sport courts, lighted baseball and football fields, a covered pavilion, and a play area as some of its features. Exchange Club Park is a 14-acre natural environment area co-developed and co-maintained with Pompano Beach and has a wonderful dog park for residents. More sporting facilities and play areas are found in Frank McDonough Park, which is also home to the Lake Placid Tennis Center.
Cap's Place is a must-see Lighthouse Point institution. Not only does it serve the best native seafood in the city, but it's also a historic site that has played host to several famous names. The building was added to the U.S. National Register of Historic Places on August 10, 1990.
Lighthouse Point has 18 miles of waterways, that provide direct access to the Intracoastal Waterway, Lighthouse Point is a boater's delight.
Potential homebuyers interested in properties with boat dockage will find plenty of housing options in the city; Lighthouse Point's collection of waterfront homes are found near the Intracoastal Waterway and Ocean Access Canals. Homes come in a wide range of architectural styles, but newer construction residences favor the Mediterranean look.
---

View All Listings in Lighthouse Point
---
LIGHTHOUSE POINT WATERFRONT COMMUNITIES