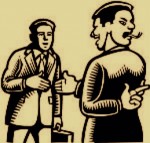 And the Florida real estate industry likes it that way.
When the disclosure laws, implemented in 2003, changed in 2008 to do away with the "transaction broker" disclosure, the real estate industry must have been celebrating.  It was hard for real estate licensees to tell buyers and sellers that they weren't being represented.  After July 1, 2008 they didn't have to anymore.
The presumption in Florida, after July 1, 2003, is that all real estate licensees are "transaction brokers".  A transaction broker "facilitates" a transaction but doesn't represent either the buyer or the seller as an agent.  The real estate licensee is a salesperson working with a buyer or seller customer.  In order for a buyer or seller to actually be represented they must enter into a written "single agent" disclosure agreement whereby the real estate licensee agrees to take on the full legal fiduciary duties of an agent and a buyer or seller agrees to have them as their agent.  Then the real estate licensee is an agent and the buyer or seller is a client.
And that is the issue.  Through the presumption of transaction broker, a buyer or seller has no way of knowing what it is or what they might be giving up.  The real estate industry decided to keep buyers and sellers in the dark and "not knowing what they don't know".  If there is no written disclosure alerting the buyer or seller to what transaction brokerage really is and that there is a better option, single agency, how are they supposed to know any better.
At least prior to July 1, 2008, a home buyer got a disclosure that told them, ""….parties are giving up their rights to the undivided loyalty of the licensee. This aspect of limited representation allows a licensee to facilitate a real estate transaction by assisting both the buyer and the seller, but a licensee will not work to represent one party to the detriment of the other party when acting as a transaction broker to both parties".
But not after July 1, 2008.  The requirement that a buyer or seller be given the transaction disclosure was dropped from the law.  So from that time forward buyers and sellers in Florida have no idea that they aren't being represented unless somehow they had read something about the disclosure going away in an article somewhere back in or around 2008 or a real estate licensee (and the company they are with) actually believes in providing full legal fiduciary duties to a buyer or a seller and presents them with the option of single agency and explaining it's worth to the buyer or seller.
Fast forward to 2015 and soon to be 2016.  Many of the buyers today weren't buyers in 2008.  They have no idea that the real estate licensee they are working with isn't representing them.  They just assume that they are their agent because most real estate licensees continue to act like and talk like an agent and in many cases actually perform duties and services that only an agent can legally provide.  So of course a buyer is going to think that they are working with an agent.
Many other states have a "summary-like" agency disclosure which is handed to a buyer or seller before any personal information is gathered or questions asked alerting the buyer or seller of their options.   The Florida Legislature in 1997 came up with one titled, "Brokerage Relationship Disclosure Act".   It provided for a Notice of Nonrepresentation disclosure.  This disclosure had to be given "at first contact."
[Florida Stat., sect. 475.276 (1)] According to the statute, the disclosure is to be given then, ". . . except in situations where a licensee knows that the potential seller or buyer is represented by a single agent or a transaction broker. If first contact between a licensee and a customer occurs during the course of a telephone conversation or any other communication in which the licensee is unable to provide the required notice of nonrepresentation, the licensee shall provide an oral notice and thereafter provide the required notice of nonrepresentation at the time of the first face-to-face contact, execution of a brokerage relationship agreement, or execution of a contractual agreement for purchase and sale, whichever occurs first." [Florida Stat., sect. 475.276 (2)]
The effect of this disclosure was to let consumers know just where they stood with regard to the licensee they were dealing with. Also it was designed to minimize the occasions when an unintended, unauthorized, and undisclosed dual agency arose because of the behavior of the parties.  Here is a copy of what that disclosure looked like back in 1997.
---
NOTICE OF NONREPRESENTATION
FLORIDA LAW REQUIRES THAT REAL ESTATE LICENSEES PROVIDE THIS NOTICE AT FIRST CONTACT TO ALL POTENTIAL SELLERS AND BUYERS OF REAL ESTATE.
You are hereby notified that . . . . . . . . . . . . . . . . . (insert name of brokerage firm) and I do not represent you in any capacity. You should not assume that any real estate broker or salesperson represents you unless you agree to engage a real estate licensee in an authorized brokerage relationship, either as a single agent or as a transaction broker. You are advised not to disclose any information you want to be held in confidence until you make a decision on representation.  (Emphasis is mine)  Your signature below acknowledges receipt of this form and does not establish a brokerage relationship.
---
After a consumer received the notice of non-representation, several choices were presented. If it was mutually agreeable, the licensee and the consumer would enter into a written authorized brokerage relationship of transaction broker or single agent, similar to what we have today.  However, the difference was that the buyer or seller were put on notice not to say or disclose any information that they wanted kept in confidence until they had a chance to explore and accept a more formal relationship.
I suspect that the real estate industry took exception to providing true fiduciary duties that single agency required along with the legal liability that being an actual agent entails.  A local real estate attorney writes in his blog, "Given all the bad acts that have happened in the Florida real estate market in recent years, having an agent with the legal duty to act as a fiduciary can make all the difference in whether or not someone who has been wronged gets compensated for their damage.  It is a huge limitation on the liability of a real estate agent and their broker to be able to act as a transaction broker instead of an agent – fiduciary.  How important that fiduciary duty may be to you will not become clear unless and until you are harmed.  Many buyers and sellers won't understand the possibility of having a real estate professional act as a fiduciary on their behalf until a catastrophe happens and they are meeting with a Florida real estate lawyer to try and find justice."
Nearly all real estate companies in Florida operate as transaction brokers now and not as single agents.  Single agency is rare and mostly available only through exclusive buyer agencies in Florida.  Exclusive buyer agencies represent buyers only and never take listings or represent sellers.  They don't have the conflict of trying to represent buyers and sellers for the in-house transaction.  Buyers Only Florida Realty is an exclusive buyer agency and we only represent buyers and never sellers.  We take on the full legal liability of being an agent as noted above in the attorney's blog.
The real estate industry really wanted a way to not be an agent at all and thus lobbied for changes passed by the Florida Legislature that took affect July 1, 2003 that brought about the "presumption of transaction brokerage" which we have today.  As noted above, the "transaction brokerage" disclosure continued until July 1, 2008 when it went away.  So here we are in 2015 and soon to be 2016 with buyers and sellers deliberately kept in the dark and misled by the real estate industry.   It would be nice if such a true disclosure were brought back in Florida to be given to both buyers and sellers at first contact, as back in 1997, warning them not to disclosure anything that they feel is confidential and giving them a summary of their options and the consequences of each.  I doubt we will ever see that again.  The real estate industry seems very content with the way things are.