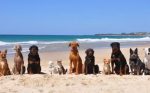 When reclining on South Florida's sandy beaches there's no need to feel that tug of guilt about your best friend back home.   Your dog could be right here with you, frolicking in the blue-green waters of the Atlantic, or fetching a ball or Frisbee on one of South Florida's dog-friendly beaches.
Remember to always have plenty of water on hand for your pets to avoid dehydration, which can sneak up on humans and dogs alike in Florida's heat all year round. Seek out frequent breaks for your dogs in the shade while visiting dog-friendly beaches in Florida, and consult with your pet's veterinarian about special sunscreen for dogs. Bring plastic bags to clean up after your pet and leave the beach like you found it and don't forget to test the temperature of the sand.  If it is too hot for you to walk on it is too hot for your best friend too.
The 80-mile stretch from Jupiter to Miami offers a number dog beaches for you and your pooch to explore. If your dog is friendly and likes to play in the sun and sand, certain beaches and parks in this South Florida region provide designated play areas just for dogs. Each location maintains rules about conduct and charges a nominal access fee; Some municipalities allow visitors to purchase beach passes online or on location. Bring your dog's current rabies certificate with you to show as needed.
Palm Beach County Dog Beaches
Starting in the North part of the county is Jupiter's Off Leash Beach. Dogs are welcome on a 2.5 mile stretch of beach on this coastline at A1A and Marcinski Road in northern Palm Beach County. The cost is free and so is parking along the beach. Free dog bags are provided by Friends of Jupiter Beach.
Bark Beach on Spanish River Beach, in Boca Raton is open on Friday's, Saturday and Sundays from 7-9am and 3pm to sunset from Nov-March and from 5pm to sunset from March to Nov. The dog beach is located between the lifeguard towers 18 and 20 at 3001 N. Ocean Blvd. You will need a valid parking permit if you are a resident of Boca Raton or pay the daily parking fee.
Broward County Dog Beaches
Fort Lauderdale Canine Beach at Sunrise Boulevard at A1Ainvites dogs of all sizes and breeds to its 100-yard beach open Fridays, Saturdays and Sundays from 3 p.m. to 7 p.m. in winter and 5 p.m. to 9 p.m. in summer for an annual fee. When you visit the canine beach, your dog must be leashed. You also must bring waste bags to pick up after your dog, and you must have a permit. You can pick up a permit to let your dog play in the unfenced area from the City of Fort Lauderdale (1350 West Broward Boulevard; 954-828-7275) with proof of current vaccines including rabies.
Dog Beach of Hollywood welcomes socialized dogs to its sandy dunes, equipped with its own park ranger. The beach strongly enforces picking up after your dog to ensure that the area remains sanitary. Open Fridays, Saturdays and Sundays from 3 p.m. to 7 p.m., November through March and 4 p.m. to 8 p.m., April through October, Dog Beach of Hollywood charges a fee at a daily or annual rate. All dogs must have current vaccines. You can purchase a beach pass on site or at Hollywood Parks Recreational and Cultural Arts Office (no website; 1405 South 28th Avenue; 954-921-3404).
Miami-Dade Dog Beach
The only dog beach in the City of Miami Beach is the Miami Bark Beach, this dog beach sits adjacent to North Shore Open Space Park, which is also pet-friendly and a great place for a stroll after a swim in the ocean. There are also plenty of outdoor pet-friendly restaurants nearby. At the beach, dogs must be on a leash except in the designated area. Proof of your dog's vaccinations is required.