How to be the Most Attractive Homebuyer
How to be the Most Attractive Homebuyer?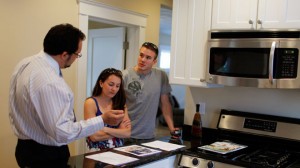 The spring season tends to flood the housing market with buyers, and in markets with low inventory levels, the competition is stiff.
As home prices continue to recover and interest rates remain at near-record lows, some houses are receiving multiple offers and to win the bid, buyers need to stand out from the crowd. According to the National Association of Realtors, houses sold in 71 days in January, down from 99 days a year ago.
Since markets are moving fast, experts recommend sellers have their loan pre-approved and down payment ready before starting their search. "The market is changing, says Cara Ameer, broker associate and Realtor at Coldwell Banker Vanguard Realty based in Ponte Vedra Beach, Fla. "Inventory is low and demand is high a buyer needs to know exactly what their parameters are.
Multiple bids are becoming the norm, so be ready to compete and do your homework to seal the deal. The longer the negotiations, the more chance you could lose out to someone else who made a better offer, says Ameer. Be reasonable without being difficult because until an offer is signed, sealed and delivered, other buyers can bid on the property.
While you have to compete in the current market, maintain your budget. "You don't want to end up paying more for the house than it's worth, says Daren Blomquist, vice president at RealtyTrac.
Experts warn against cutting corners like skipping the inspection or engaging in a bidding war. You don't want to unduly stretch yourself just to get into a property, says Blomquist.
To help you become a homeowner in this competitive market, experts recommend the following tips for being the most attractive:
Plan Ahead
You have to plan four months before you're going to buy, says Michael Corbett, Trulia's real estate expert. Check your credit for accuracy and avoiding making any big purchases or taking on any big debt during this time.
[Debt] brings down your credit score and increases your debt-to-income [ratio] which are two critical things banks look at when qualifying and preapproving you for a loan," says Corbett.
If your debt-to-income ratio is too high, experts recommend paying down as much debt as you can to lower this ratio.
Set Your Home Price
Don't look at a $300,000 home if all you can afford is $250,000, says Ameer. Less supply on the market increases the likelihood for multiple offers, and you won't be able to compete. If properties are selling at 95% of asking price, don't think you'll get a deal at 85% of asking price, she says.
If you do spot a great deal on a house, don't wait days to make an offer, warns Corbett. Since time isn't on your side, learn how to spot a great deal by researching an are's home prices.
Do a little due diligence and go to open houses do your homework, says Corbett. Being educated will help you negotiate and could prevent you from paying more for a house than it's actually worth because you're emotionally involved.
Know that Cash is King
The more cash you have, the more appealing you are as a buyer. Putting 20% or more down makes you look more financially stable and gives sellers comfort that you'll qualify for a mortgage, says Corbett.
Cash can cover a multitude of problems when you make an offer, whether it's difficulty with the mortgage process or a lower-than-expected appraisal. A buyer can contribute more cash to cover the different between the appraisal and offer price, says Blomquist.
If your appraisal is low, don't expect the appraiser to come up in value, says Ameer. Appraisers are under scrutiny with the banks and they have to justify everything they do." They're required to follow Uniform Standards of Professional Appraisal Practice (USPAP) guidelines, as well as lender guidelines.
Appraisers use surrounding properties for comps, says Ameer, and if there are only foreclosures, that's a bad hand to be dealt. You can always review the appraisal for discrepancies and suggest different comps but don't expect the value to change.
Get Preapproved before Your Search
Getting prequalified for a mortgage gives a ballpark for what you can afford to buy and will streamline your search process.
If you're financing your house with a mortgage, have a pre-approval letter with you and if you're paying cash, have proof of funds that shows you're good for it.
Getting preapproved will also help you to compete with an all cash buyer, says Walter Molony, spokesperson for the National Association of Realtors.
When you know what you can afford and are preapproved, you won't be shopping outside of your price range, says Corbett. It makes you a much stronger buyer when you can turn in that preapproval letter with your offer.
Limit Your Contingencies
Experts suggest having as few contingencies as possible to be an alluring buyer. Don't overcomplicated your offer to the seller, says Ameer. Certain contingencies based on your ability to get a mortgage, the appraisal and home inspection are standard, but piling on more could make the seller less inclined to work with your offer.
Experts advise making an offer based on a satisfactory home inspection. It gives you the opportunity to walk away if you find in an inspection that there are too many problems with the house, says Corbett.
Making your offer contingent on you selling your house first will make you a less appealing buyer. If you need to sell your house before buying a new one, then sell your home first and rent or move in with family or friends while you look for your new home, says Blomquist. As a seller, you'll sell that home quickly. Then as a buyer, you're much more appealing than a buyer contingent on a sale.
Add a Personal Touch
Corbett suggests sending a letter to explain why you want to buy that house. You become a person who really loves and appreciates the home instead of just a number, says Corbett. Sending a letter is just one extra little thing that will help level the playing field.
Be Flexible with Closing Dates
Let the seller know that you would be flexible on the closing timeline, says Corbett. Find out when the seller would ideally like to close on the house and see if you can match it.
Read more: http://www.foxbusiness.com/personal-finance/2013/03/21/how-to-be-most-attractive-homebuyer/#ixzz2Ra0Mnuif
Source: Foxbusiness.com