Delray Beach, Florida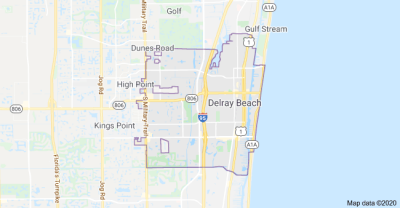 Hailed as "Florida's Village by the Sea," Delray Beach, FL is a premier resort destination with pristine beaches and a lively community that is truly inspiring. The city is traversed by Interstate 95, the longest highway in Florida and is located between Boca Raton and West Palm Beach, in Palm Beach County.
Explore the crystal clear Atlantic Ocean or visit unique galleries and boutiques on Atlantic Avenue by day; enjoy a night of dining and entertainment at any of Delray Beach's award-winning cafés or restaurants. When you live in "Florida's Village by the Sea," you will instantly feel the warm and friendly atmosphere that makes Delray Beach a enviable place to live. Come "downtown" and meet the beautiful people, shopkeepers and the entire community known as a Sociable City and recently awarded "Best of the Road – Most Fun Small Town in America" by Rand McNally & USA Today. In Downtown Delray Beach, you'll find everything that you need and more with so many options to choose from. Looking for restaurants to satisfy your appetite? There are more than 120 diverse restaurants to choose from. There are also over 50 boutiques and retail shops, 30+ art galleries, 50+ spas and salons and 18 hotels here.
Quick Facts
One of the destinations you should definitely visit  is Atlantic Avenue, a major retail and shopping destination in the area, where you'll find a diverse array of interesting boutiques and upscale shops as well as fun destinations for a night out on the town.
This city  is only an hour away from Miami and is extremely accessible from Fort Lauderdale-Hollywood Airport and Palm Beach International Airport.
If you would like to experience a booming art scene, you can head on over to the Pineapple Grove Arts District for tons of exciting community events and local exhibitions.
Won the All-America City Award twice: in 1993 and 2001. It was also hailed the Most Fun Small Town in the country by USA Today and the Travel Channel in 2012.
Delray Beach, FL offers a diverse range of luxury real estate to choose from. Here you can take your pick from family-friendly communities that offer single-family homes, waterfront estates, and villas, condominium properties located in private enclaves that feature scenic views and charming apartments and townhomes that are for sale or rent that come complete with resort-style amenities.
If you care to narrow your search criteria, please refer to the Search Properties page.
---
---
DELRAY BEACH COUNTRY CLUB COMMUNITIES
DELRAY BEACH EQUESTRIAN COMMUNITIES
DELRAY BEACH GATED COMMUNITIES
DELRAY BEACH RESIDENTIAL COMMUNITIES
DELRAY BEACH WATERFRONT CONDOS AND TOWNHOMES
DELRAY BEACH WATERFRONT HOME COMMUNITIES
DELRAY BEACH TOWNHOME COMMUNITIES
DELRAY BEACH 55+ COMMUNITIES