Coral Springs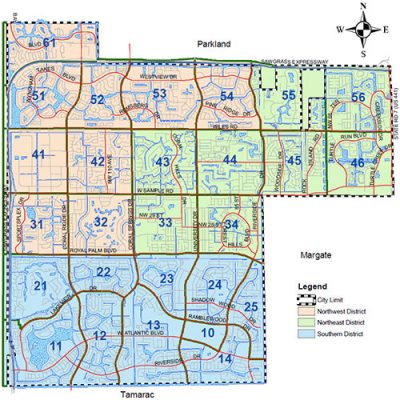 Coral Springs, FL has been recognized with a myriad of accolades over the past two decades. National publications have praised its family-friendly atmosphere, impressively low crime rate, and overall livability. The City has been consistently listed within the top 50 cities to live in the US, as well as one of the top 10 safest.The city is known for its quiet atmosphere and great restaurants. Coral Springs Is a family-friendly community filled with restaurants, movie theaters, museums, the center for the arts, over twenty parks, and places of worship, and municipal sports centers. Coral Springs has some A-rated schools and an award winning youth sports program.
The City of Coral Springs' Parks and Recreation Department operates over 50 municipal parks, including a water park and a skate park, encompassing over 675 acres.  Coral Springs' largest park is Mullins Park (70 acres). Of the four conservation areas in the city, Sandy Ridge Sanctuary is the largest, at 38 acres.
Coral Springs is the home of the Florida Panthers NHL team, and has more than 25 amateur sports leagues. Coral Springs Youth Soccer has more than 3,000 players, playing for 284 teams in 20 separate leagues, divided by age group and sex. The Honda Classic golf tournament was played at the TPC at Eagle Trace from 1984 to 1991 and 1996 and then at the TPC at Heron Bay from 1997 to 2002.
The regional Sportsplex has a jogging path, an aquatic center, tennis courts, ice rinks and a dog park. The NHL's Florida Panthers conduct much of their training at the Saveology Iceplex, part of the Sportsplex.The International Tennis Championships—an ATP International Series men's tennis tournament was held at the Sportsplex from 1993 to 1998.
Coral Springs in Broward County, Florida was ranked as the 27th best city in the United States in which to live by Money Magazine in 2006 and 44th best place to live in the US by CNNMoney.com in 2010; was named the 10th safest city in the US by Morgan Quitno in 2007; and was a multiple recipient of America's Promise "100 Best Cities for Young People" award, identified by the group as a three-time winner in 2008.  In 2007, Coral Springs became the first state or local government in the nation to receive the Malcolm Baldrige National Quality Award. In 2012, the city was ranked 94th overall and 3rd in Florida on the '100 Best Places to Live list published by Money Magazine
---

View All Listings in Coral Springs
---
CORAL SPRINGS COUNTRY CLUBS
CORAL SPRINGS GATED COMMUNITIES
CORAL SPRINGS LUXURY HOMES FOR SALE
CORAL SPRINGS TOWNHOME COMMUNITIES